Course Details
Fenzi TEAM Nosework is the newest virtual titling event out there. Nosework builds confidence through empowerment and fosters deep communication between the dog and handler. The Fenzi TEAM Nosework exercises have been developed to test your foundations in a way that will support your team's development long-term in this sport.
This workshop will look at all 6 exercises so that you can understand them, understand your gaps, and prepare! We will cover the rules and understand how to get started!
1-1 Interior Threshold Under a Chair
1-2 Interior Threshold Under Bin Handle
1-3 Distance Search
1-4 Container Search
1-5 Exterior Search Non-Grass/Dirt Area
1-6 Vehicle Search
In this workshop, you will be allowed to set up one of the exercises for feedback on setup, hide placement, video, and your overall performance! This workshop will be perfect to help give you the momentum that you need to get out there and earn the first level title of the new Fenzi TEAM Nosework program!
Watch the Trailer
This is a previously run workshop. Your purchase will provide access to both the original presentation recording and the student feedback recording. There is no opportunity to submit video or ask questions.
---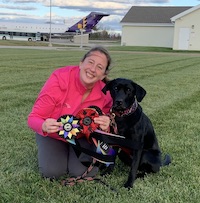 Instructor:
Stacy Barnett
Stacy Barnett is a top nosework competitor and trainer, being the first handler to title multiple dogs with multiple Summit Level titles in the National Association of Canine Scent Work (NACSW), (Judd SMTx3, Brava SMTx2). Stacy has been a faculty member at Fenzi Dog Sports Academy since 2015 (Click here for full bio and to view Stacy's upcoming courses)