Course Details
Are you hooked on rally? Once you get into the Rally ring, most teams move through the Novice level fairly quickly. Be prepared for move ups with this class on Advanced and Excellent signs! We will focus on the AKC signs for this class, but if you compete in another venue and need help with a sign, just let me know and I'm happy to add it in!
Each week will consist of three parts: sign introduction, skills, and how to properly perform the sign. There will be lectures and video examples for every sign, plus additional lectures and videos on how to teach the skills needed for the sign, if they weren't previously taught for the Novice level signs.
In addition, we'll cover all sorts of things that you need to know before you get into the ring, like transitioning to off leash, staying connected to your dog, reducing reinforcement, tips for not getting lost, and what to do when things don't go as planned. After you take this class, you will be confident enough to get in the Advanced or Excellent rings!
This class will feature Ann Smorado as the TA in the study group! Ann is a fabulous trainer and will be an excellent addition to the group.
Here's a video of an Excellent run in AKC Rally. This is one of my students with her Chessie.
Here is the trailer for this class!
Teaching Approach
Lectures will be released weekly on the first day of each week. There is one lecture for each Advanced and Excellent Rally sign, which includes a description of the sign, several demo videos, a written explanation of how to teach the skills needed for the sign, several short videos showing the training steps for the sign, and tips for performing the sign correctly to minimize point losses. In addition, there are several written concept lectures. Videos do not include captions or voiceovers. Rally is a physical sport which requires walking but accommodations can be made for those with mobility issues. I have coached students in wheelchairs and with canes and people using mobility devices can have successful rally experiences. This class would work best with students that prefer written out instructions with video examples of each step who prefer a systematic approach to rally training. I will provide written feedback with video examples if necessary.
This class will have a Teacher's Assistant (TA) available in the Facebook study group to help the Bronze and Silver students! Directions for joining will be in the classroom after you register.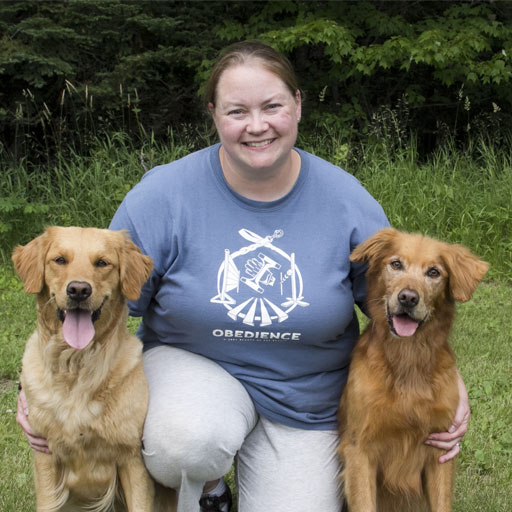 Instructor:
Nicole Wiebusch
Nicole Wiebusch CPDT-KA (she/her) has been competing in dog sports for over 25 years. Starting in 4-H, Nicole quickly became addicted to the sport of obedience and has been showing in obedience, rally, and agility ever since. (Click here for full bio and to view Nicole's upcoming courses)