Course Details
Imagine this…

It's your first time in the Novice Rally ring with your dog. You walk into the ring and you feel confident — you just know that both you and your dog are fully prepared for this moment.

You set up next to the start sign and the judge asks if you are ready. You focus on your dog and see those brown eyes staring back at you, twinkling, ready to work. "Ready!" you reply to the judge.

Stepping into the ring with your dog for the first time can be nerve wracking — and it's easy to let those nerves get the best of you. The best weapon against nerves? Knowing you and your dog are completely prepared.

With the skills you learn in this class, that could be you! That happy attentive dog could be your dog! Taking the time to prepare for your first show will pay off each time you step into the ring with your canine partner.

We'll talk about connection, reducing reinforcement, rules, how to enter a trial, what to expect at a trial, and how to read a course map. Each week there will be three or four courses that you can choose from, gradually getting longer in length and a bit more difficult. You'll be gently introduced to sequencing signs and you will become confident with where you should be in relation to each sign.

Learn how to earn those high scores — we'll also discuss how to avoid the most common point deductions, as we polish up your team's current skills!

As with the entire Get Ready to Rally! Series, Gold teams can continue working on refining and adding precision to any of the skills needed in rally.

This class will feature a TA (Teacher's Assistant) in the FB Study Group! Your TA will be Ann Smorado. Ann has done a wonderful job as TA for all my rally classes and the study group is lucky to have her!

Check out this exciting trailer for this exciting class!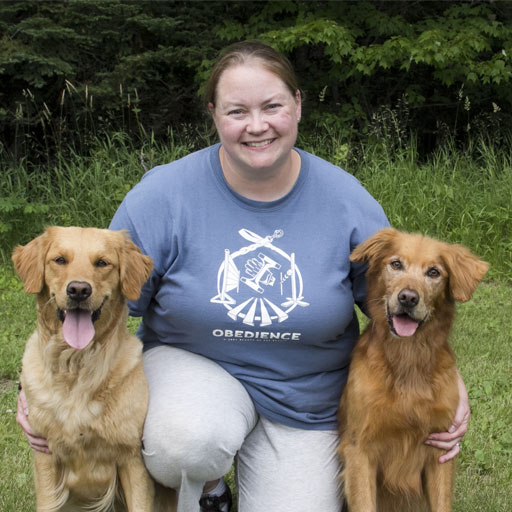 Instructor:
Nicole Wiebusch
Nicole Wiebusch started competing in dog sports as a teenager in the 90's and quickly became addicted to the sport of obedience. In 2001, she acquired a golden retriever named Tucker who taught her that traditional methods weren't the best way to a happy confident dog. +