Course Details
You've learned the basics, even dabbled in some advanced skills but are you ready for competition? With so many scent detection organizations out there now (up to 11 and counting!) teams are entering competition faster than ever and moving up even faster! This class will help you be prepared and even assess IF you should be trialing yet. As we all know, a rocky foundation will not support the higher levels of any sport! The challenges and skills required at the higher levels of scent detection sports are FUN and interesting. You want to soar when you get to those levels and have the foundation to support it. Learn now what you'll need later!
This course will cover the importance of handling and observing our scenting dogs. We'll learn how we can support them and also to allow them to be independent. We will spend more time on newly learned elements (vehicles, buried, exteriors) and continue to strengthen our container and interior skills. We will also cover trial time strategies - and what to do with the unexpected happens, or what you can expect and make a plan for! What do you do if your dog goes back to a found hide or is distracted? We'll cover that here! Handler focused dogs? We'll cover that too!
This is the perfect class to perfect your foundation and element skills before diving into more complex and advanced skills.
Prereq: Dogs should be on at least 2 odors, and have equivalent of skills covered in NW120 - Introduction to search elements.
Teaching Approach
This class offers written lectures, no verbal lectures, and videos of varying length. Lectures are designed to be watched and follow the ideas presented in the lecture. Lecture videos may run from 1 to 4 minutes long, with the average between 1-2 minutes. The lectures are designed to help a student understand the purpose of the exercise and how it might vary by dog. Each week, lectures are usually rolled out in 2 batches - the night before each week and a few days into each week. This class will work best for students who learn by reading text lectures, watching videos and who like having structured lesson plans.
This class will have a Teacher's Assistant (TA) available in the Facebook study group to help the bronze and silver students! Directions for joining that Facebook group will be in the classroom after you register.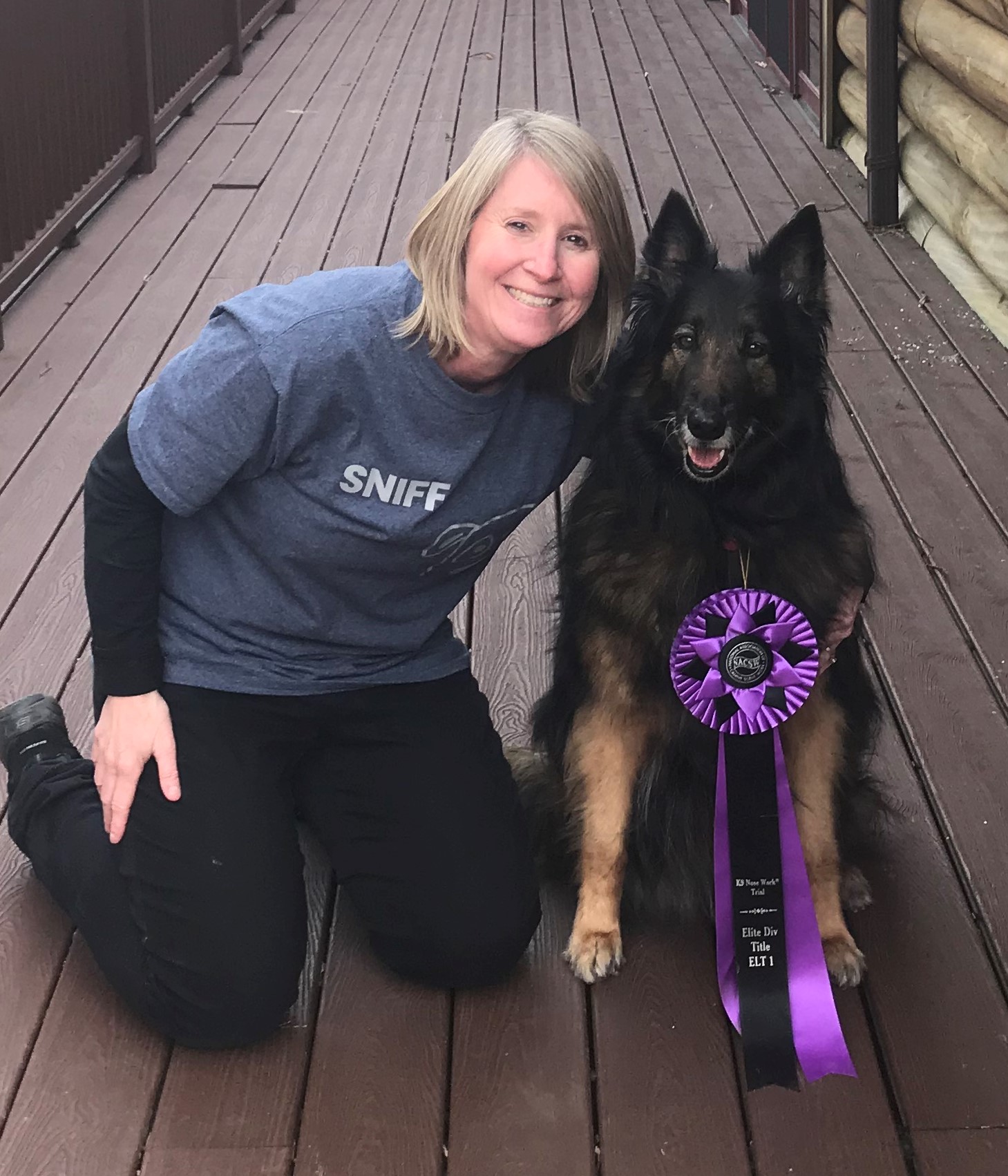 Instructor:
Julie Symons
Julie Symons (she/her) has been involved in dog sports for over 25 years. Starting with her mix, Dreyfus, in flyball, she went on to train and compete in conformation, agility, obedience, herding and tracking with her first Belgian tervuren, Rival. Rival was the first CH OTCH MACH Belgian...(Click here for full bio and to view Julie's upcoming courses)