Course Details
This class is part 3 of a 3-part series.
Ready to turn those bits and pieces into a formal, ring-ready heeling pattern? What is the secret to a fancy figure 8?

In this class, we will formalize and combine all the elements from the previous two classes to build formal heeling patterns.
Build your confidence in the ring by learning what to expect from the judge, and practice your responses until your own behavior is fluent and ring-ready.

Consider the three layers of stimulus control that are in effect in the ring: the judges commands, the handler's cues, and the dog's response.

Deconstruct the Figure 8 and explore the skills needed from dog and handler, and also making handling choices for your individual dog.
Build duration and focus for resilient behaviors under pressure
And put it all together for a polished performance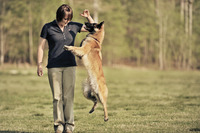 Instructor:
Hannah Branigan
Hannah Branigan (she/her) has been training dogs and teaching people for more than 10 years. She is a Certified Professional Dog Trainer (CPDT-KA) and a Karen Pryor Academy Certified Training Partner (KPA-CTP). Hannah is the owner of Wonderpups, LLC, and teaches workshops...(Click here for full bio and to view Hannah's upcoming courses)