Course Details
This class is part 2 of a 3 part series.
How do you turn your foundation heeling behaviors into formal heeling? What cues and footwork do you need for a polished performance?
In this class, we will focus on building the components of a heeling pattern:
Starts
Halts
Left turns
Right turns
About turns
Change of pace
Using the foundation skills, games and exercises taught in Part 1 of this series, you will build ring-ready performance one component at a time. You will focus on elements needed for a correct, full-point performance from the dog, as well as cues and footwork from the handler. You will combine the movement skills from the previous class into precise and powerful heeling for sharp turns and an enthusiastic performance.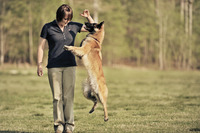 Instructor:
Hannah Branigan
Hannah Branigan (she/her) has been training dogs and teaching people for more than 10 years. She is a Certified Professional Dog Trainer (CPDT-KA) and a Karen Pryor Academy Certified Training Partner (KPA-CTP). Hannah is the owner of Wonderpups, LLC, and teaches workshops...(Click here for full bio and to view Hannah's upcoming courses)