Course Details
Are you setting your sights on entering your dog in their first obedience trial? Or perhaps you already entered a novice or beginner novice trial but it didn't go quite as planned?
Or maybe you just really want to start polishing up your dog's behaviors for the ring and make sure all their trial prep is in place for when your dog finally matures!!
This class will look at dogs getting ready to trial in novice or beginner novice obedience in AKC, CDSP, UKC, or similar organizations. Each week we will look at 1 obedience exercises to polish up and problem solve, and will also look at preparing our dogs to handle the trial environment. Ring preparation topics include working with the rewards out of the ring, how to transition between exercises, and getting fast setups.
We will also discuss how to handle your dog at the trial itself from warming up to walking into the ring.
Teaching Approach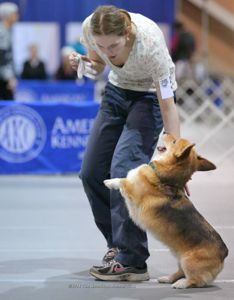 Instructor:
Laura Waudby
Laura Waudby (she/her) trains and competes in obedience, rally, agility, and dabbles in disc dog and trick training. She was halfway to her OTCH with her UDX corgi, Lance, before his early retirement. She also has championship titles in USDAA and UKI. By day...(Click here for full bio and to view Laura's upcoming courses)