Course Details
You've trained the behaviors down to the tiniest of detail and are now ready to show them off to the world. This class will help you prepare for the distractions that await you in any environment you can imagine. We will discuss how to know if a behavior is ready to undergo the pressures of distraction, how to evaluate your environment as well as your dog's mental state, how to create patterns to set your dog up for success as well as work through a never ending list of games to play on the quest for distraction domination.
Dogs will be best suited for this course if they have 3-5 behaviors that are well known to them. This course is not designed to address fear or confidence problems around dogs, people or new environments.

Teaching Approach
The first week includes multiple lectures, however the rest of the weeks will include one - two short lectures with video examples on how to perform the exercises. In this class, exercises and feedback are really catered to each individual team and the lectures provide the framework to help develop the training plan.

Students will work with the instructor to identify their dogs areas of strengths and weakness and will work to develop a training plan suitable for them. This class includes a time limit of 6 minutes of video submitted each week, most gold students submit 2-3 videos each week.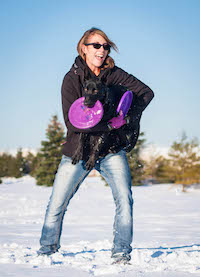 Instructor:
Sara Brueske
Sara Brueske (she/her) has been training dogs for over 15 years, and has experienced a large variety of breeds and sports during that time. Having graduated as a Karen Pryor Academy Certified Training Partner ... (click here for full bio including Sara's upcoming courses)