Course Details
There are a wide variety of sports and tasks that require the dog to use his nose and sense of smell to be successful: Tracking. Nosework. Truffle hunting. Barn hunt. Scent Discrimination. In all these venues, as well as practical applications, our ability to understand what scent is and how it can be influenced by the environment plays a vital role in the dog's success. Even more importantly, such understanding allows us to correctly set up training scenarios that allow the dog to develop skills and experience.
With any scent work, we are not teaching the dog how to scent, but rather we are setting up a situation that allows the dog to hone a skill that he possesses genetically. By understanding scent and scent dynamics, we can correctly interpret why the dog did what he did in a training scenario. We can also avoid over-facing him in training scenarios.
The purpose of this class is to discuss what scent is and discuss the variables that can influence it, such as the influence of temperature, air currents, obstacles, terrain, aging, wind, humidity, and other characteristics of scent and scent dynamics.
There will be a lot of information in the lectures. In addition, for gold students, there will a homework assignment specific for tracking and/or nosework for each week. The homework will consist of setting up a simple hide or track, watching the dog work, and then, using what you are learning, attempt to explain why the dog worked the problem the way he did. You can only enroll one dog per gold spot; however, you can either switch back and forth between the two (if you have a dog that does both), or you can work either your tracking dog or nosework dog. Please only enroll one dog though!
Here is an example of a dog searching a small area for a hide. The smoke allows you to get a general idea of what the air flow might look like while he is searching.
Teaching Approach
This class, due to the nature of the information is very lecture heavy. There will be lectures posted approximately twice a week discussing the various environmental variables that can influence the dog's ability to successfully locate and/or follow a specific odor. While all of these variables work together, most of the lectures are stand-alone lectures discussing a specific variable. Within each lecture, there are videos and diagrams to provide illustrations of what is discussed in the lectures. The homework assignments for the Gold students will be additional exercises to attempt to set up the conditions that we discuss in the lectures. Sometimes there go as planned and sometimes they do not, however even in the case of the latter, they usually provide us with good information regarding why the dog worked the area the way s/he did.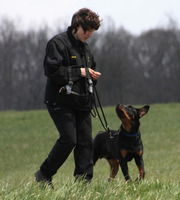 Instructor:
Lucy Newton
Lucy Newton (she/her) has been training dogs and teaching dog training almost all her adult life. She was a search & rescue dog trainer, handler, and instructor and trained numerous personal dogs for wilderness search and rescue, as well as land and water human remains detection. Working with very active wilderness SAR teams, she worked on a large number of missing person cases in both urban and very remote wilderness locations. (Click here for full bio and to view Lucy's upcoming courses)