Course Details
Is your dog afraid of skateboards? Wants to chase them? Barks at them? Or, does your dog need to improve balance, muscle tone and body condition? Are you looking for an activity that is fun and challenging for your confident dog? Then this course is perfect for your dog!
We'll work through desensitizing your dog to the sight and sound of skateboards and then start interacting with a moving one. We'll teach him how to flip one over, and get on one from both a stationary position and while it is moving. Your dog will not only be able to be comfortable and focus on you when one passes by, but we'll teach him to jog beside one (with you or a friend riding it) and even be able to ride on one down a hill! More advanced dogs will learn to push the skateboard to keep it going on a flat surface, how to do a simple jump to build confidence (yup, curb jumping at its finest), doing a set of a few stairs and leaning into turns to avoid objects in their path. Your dog will be hotdogging on a skateboard before long!
Learn to bring out the inner daredevil in your dog!
Check out the class promotional video!


Disclaimer
All dogs sports are risky. Some more than others. By signing up for this class, you assume all risk to yourself and your dog. Overweight dogs need to be thinned down before participating to prevent ACL tears and other related injuries.
Please let me know if your fearful dog has any history of knee or hip issues and we can choose the specific activities for him to avoid injury so he can still learn to be comfortable around them.
Teaching Approach
This class is heavy with theory, practical and many videos showing the steps. Be prepared to do much reading in weeks 1 and 3. Remember to progress at your dog's own speed though. The lectures help you to prepare your dog for the unexpected, especially if he lacks confidence.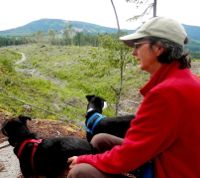 Instructor:
Donna Hill
Donna Hill (she/her) has had a life long love affair with dogs and a fascination with dog behavior. She has broad practical experience in the dog world: volunteering and working in kennels and shelters, dog sitting and walking, fostering rescue dogs, teaching behavior modification privately, and...(Click here for full bio and to view Donna's upcoming courses)