Course Details
Do you overthink your training, have ring nerves, experience anxiety around training or competing, or feel excessive stress about training? Are you curious to understand the impact your brain has on training and showing? If you aren't happy with your commitment to training, or if you go home after a show feeling unhappy about yourself or your dog, then this course will help you get your head in your game.
This course will let you become a better trainer/competitor by focusing on your mental game. Gold spots will be highly individualized to people's personal profiles and completion of homework. We will consider you as an individual and use your distinct personality type to best advantage as a trainer and competitor!
Some of the specific topics covered in this class include:
Identifying your personality and learning style
Planning for Success
Training for Success
Understanding the Brain
Memory and its role in success
Finding Focus in the face of distraction and crisis
Training for failure
Identifying concerns
Creating your Plan
Testing Your Plan
Doing your Plan
Coping techniques
Making the most of what you have
Join us in this important and illuminating class, and find your way to more enjoyment in the world of dog sports!
Teaching Approach
This class is taught largely through written lectures and instructor feedback on gold threads. Additional readings/videos are added depending on the student group.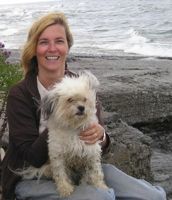 Instructor:
Andrea Harrison
Andrea Harrison (she/her) is passionate about all species, including dogs and humans! Having lived with dogs her whole life, Andrea was an early convert to positive training for people and dogs. She has taken this message to the media many times...(Click here for full bio and to view Andrea's upcoming courses)