Course Details
Many dogs start their agility career with good stopped contact performance. But over time, the behavior or the criteria changes and morphs into something undesirable. What causes that to happen?
This class focuses on the training or retraining of a stopped end position contact performance. It can help retrain dogs that are currently trialing and help young dogs build these skills from the ground up.
You won't need access to any full-contact equipment during this class. But you will need a training plank (see the prerequisites section below). Contact execution issues are almost always caused by distractions (lack of generalization during the teaching phase), inconsistent and unintended handling, or confusion.
When your handling is consistent, and your dog understands an independent stopped position, adding the skill to each of the three contacts is easy. However, transitioning to the teeter might takes extra training to incorporate movement and sound. Still, the stopped position from this class will sprinkle nicely into the trained components of that obstacle.
This class will benefit you and your dog the most if you avoid the formal sequencing of contacts in training and trials. If you want to fix your stopped contacts permanently, don't practice the old bad habits. Build new habits and then bring those forward into training and, ultimately, trials.
You will also learn how your dog's stopped contact performance breaks. For example, why did your dog start trialing with good contact performance, and eventually, the performance deteriorated? If you understand how to replace the "don't do" handling with the "do this" handling, your dog will have outstanding contact performance during its entire agility career.
If you have worked through my AG140 - Building and Maintaining a Start Line course, then you will have a slight advantage during this class. There will be similar concepts and handling which will benefit you. However, if you have not taken AG140, you will learn similar handling and training strategies in this course and apply those to contacts.
Teaching Approach
This class takes a step by step approach to building the various handler and dog skills. Each step will have written instructions and at least one video. Lectures are released in one batch at the beginning of the week. Feedback will all be written.
This class will have a Teaching Assistant (TA) available in the Facebook study group to help the bronze and silver students! Directions for joining that Facebook group will be in the classroom after you register.
Here is your TA, Heather Sather, showing her Dutch Shepherd, Mazi in Novice standard. She has worked through my program and has LOVELY stopped contacts.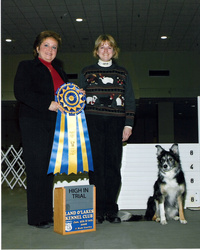 Instructor:
Nancy Gagliardi Little
Nancy Gagliardi Little (she/her) has been training dogs since the early 1980s, when she put an OTCH on her Novice A dog, a Labrador retriever. Since then she has put many advanced obedience titles on her dogs, including 4 AKC OTCH titles, 6 UD titles, 3 UDX titles, and multiple...(Click here for full bio and to view Nancy's upcoming courses)