Course Details
Many dogs start out their agility career with good stopped contacts. But over time, the behavior or the criteria changes and morphs into something undesirable. Why does this happen?
This class will focus on the end position behavior of stopped contacts. It can help retrain dogs that are trialing and help young dogs build the skills from scratch.
Please do not take this class if you plan on trialing in classes with contacts.
If you plan on taking this class, I highly recommend that you take AG140 - Building and Maintaining a Start Line even if your dog's start line is good. This class builds from AG140 and you will be familiar with a similar foundation that was introduced there.
**** IMPORTANT **** This class will focus on the training or retraining of a stopped contact performance. It won't focus on teaching or retraining execution of any of the full contact equipment. Contact execution issues are almost always related to confusion in the performance or criteria of the stopped position. Once the handling has been addressed and the stopped position has been taught and polished, your dog's confidence will improve. With confidence, the contact execution will also improve prior to that stopped position.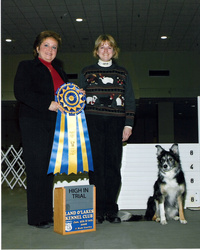 Instructor:
Nancy Gagliardi Little
Nancy Gagliardi Little has been training dogs since the early 1980s, when she put an OTCH on her Novice A dog, a Labrador retriever. Since then she has put many advanced obedience titles on her dogs, including 4 AKC OTCH titles, 6 UD titles, 3 UDX titles, and multiple