Course Details
Handlers Choice Class with Kamal Fernandez!
During this 6 week course, the handler can decide on WHATEVER it is that they want to work on for the duration of the course…..
This will be your chance to partake in a 'tailored' made class for YOU!
The course is aimed at developing and focusing on exercises/behaviors or problem-solving. Handlers are asked to identify two core behaviours/skills/exercises to work on within the six week course, andwill receive feedback or content relating directly to your training.
Some common examples:
- drive issues
- ring preparation
- dealing with high drive dogs
- dealing with low drive dogs
- progressing heeling
- retrieve issues
- toy play
- send away/go out
A set of "core" lectures is provided on some common sport training issues (heeling, tugging, play etc.) and the balance of lectures/videos will be provided based on the needs of the gold students.
Teaching Approach
Feedback and materials are provide based directly on the needs of gold students. Generally lecture materials are provided in a video format showing examples of behaviors with the instructor speaking or using a voice over technique to explain the video content.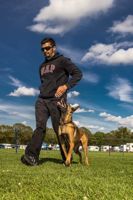 Instructor:
Kamal Fernandez
Kamal Fernandez (he/him) started training in 1991 after getting Scrunch, an independent and free-willled chow-chow mix. Like many other first-time dog owners, Kamal found himself in for a rude awakening when he got her – Lassie she was not! You name it, Scrunch did it – ...(Click here for full bio and to view Kamal's upcoming courses)