Course Details
A website is often the first impression your future customers will have of you and what you do! This class will help you build a first-in-class website for your dog business — good for trainers, breeders, or any other dog business.
NOTE: There are additional costs associated with this class. Please read the full description for details.
A professional will charge you thousands of dollars to design your website, but with a bit of help from Melissa, you can have the same outcome for just a fraction of the cost.
Whether you're looking to replace your existing Wordpress site or build a new one from scratch, this class can help! We'll walk through the entire process of building a website, starting with purchasing the pieces you'll need. Tutorial videos will show you every step of the process and lectures will help explain what each piece does and how they work together.
Students who follow along will walk away after 6 weeks with a completed site ready to release to the world! We'll be using Wordpress and the Wordpress Theme Divi, from Elegant Themes, to create a site that's unique and styled just the way you like it.
Why Wordpress and why Divi? This combo is the best combination I've found for an incredibly user-friendly experience with an incredibly professional looking final product. It's flexible enough that no two sites should come out looking the same while being simple enough that you won't need to learn code or be extremely technical to design something you love. Want to dig a little deeper? You can learn a little more about Divi here.
How the levels work for this class:
If you're a gold level student, Melissa will help you each step of the way, providing feedback on design, copy, and overall website planning, in addition to general questions. This is the next best thing to having a professional do it for you!
If you're a silver level student, you can ask general questions — and, in addition to general questions, you can get Melissa's help and feedback on two assignments or her help problem-solving any two issues.
And if you are a bronze level student, you will have access to all of the information that you need to build a website, plus, by following along with your classmates, you will be able to problem solve and develop your creativity to get you where you need to go for an extremely attractive price!
To participate in this class you will NEED to purchase the Divi theme and Melissa strongly recommends purchasing hosting through Siteground (the hosting company featured in the class tutorial videos). If you already have hosting, you will need to ensure your hosting company offers WordPress and work with their support to set that up. You will also need to purchase a domain name.
Additional COSTS (see prerequisite tab for links):
Divi - $89/year or a one time fee of $249
Hosting with Siteground - $15-25/mo after the first year. ($7-10/mo for the first year)
Domain Name - Starting at $15.95/yr
These costs are in addition to the cost of the class.
Teaching Approach
This class will take a step by step approach. Each step will have written instructions with a corresponding video of each step. Directions are very detailed. I recommend students read through the lecture AND watch the videos. For an example of what I mean, please see the sample lecture — all lectures throughout the class are done in a similar format.
Videos may be longer - I try hard to show ever step of the process. Lectures are released almost daily. Feedback will mostly be written, however for gold students I will sometimes provide screenshots and/or custom videos to show how to solve a problem.
The class is fast-paced, but is set up to allow for a full website design during the length of the 6-week class — if students work through lectures weekly, they should have a finished site by the end of class.
This class will have a Teacher's Assistant (TA) available in the Facebook study group to help the bronze and silver students! Directions for joining will be in the classroom after you register.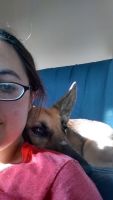 Instructor:
Melissa Breau
Melissa (she/her) is FDSA's resident marketing geek. She teaches two classes here at FDSA: Marketing for Pet Professionals and Building a Wordpress Website.