Course Details
Starting from the assumption that reinforcers are behaviors rather than things, and can be trained, put on (marker) cue, proofed, and generalized like any other behavior, we will explore a large variety of traditional and nontraditional rewards for your dog: food and play, chasing squirrels, licking the dishes in the dishwasher, biting the garden hose, swimming, running out the door …
We'll train multiple marker cues: giving different types of reinforcers and different reinforcement locations specific marker signals will maximize clarity for your dog!
Rather than just slapping on a random reinforcer, we'll look into the state of mind it comes with, and how it affects the behavior you are rewarding: do you want action, relaxation, or calm concentration? Your choice of reinforcement matters and you will learn to make smart choices for your dog in different situations. We start with an in-depth exploration of the choice, delivery method and reward location for classic reinforcers such as food and toys, and then explore a wide array of nontraditional reinforcers.
Why should you care about expanding your reinforcement repertoire? Non-traditional reinforcers …
help you get traditional reinforcers off your body
lend themselves to practicing impulse control (yes, you'll get to chase that bird - but I'd like you to do something for me first!)
are potent rewards for life skills (Keep four paws on the floor, and you'll get to greet your friend!)
are lots of fun to experiment with.
This is a concept class - you can use it as a framework to practice the life or sports skills of your choice.
In this podcast episode, Chrissi, Nicole, Heather, and Melissa chat about life skills for dog athletes, and Chrissi gives you a sneak peak into her reinforcement class.
Teaching Approach
There will be between 3 and 4 lectures a week, released throughout the week. A lecture is approximately 1000 words in length, and will be broken up by subtitles and bullet points. Written explanations are illustrated by videos and tables (images). Homework will be provided in the last paragraph of a lecture, under the "Homework" heading.
Chrissi loves tailoring their approach to individual Gold teams, and tries to meet each team where they are. Their feedback is encouraging and empathic, focusing on what is going well already, and finding ways to make it even better. Chrissi uses timestamps to point out specific moments in Gold and Silver homework videos.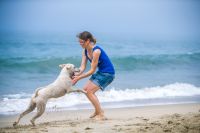 Instructor:
Chrissi Schranz
Chrissi Schranz (they, them), CCUI, is a dog trainer, writer and traveler currently based in Mexico. Chrissi has been fond of dogs of all sizes, shapes and personalities for as long as they can think - especially the so called difficult ones. After training the dachshund of their early teenage years in traditional ways at their local obedience club, they learned about clicker training and got hooked on motivational methods ... (click here for full bio and to view Chrissi's upcoming courses)