Course Details
Welcome to the cool world of placement props!
Do you wish your dogs could be polite when you eat dinner? Do you want your dogs to enjoy taking turns in training? Are you interested in TEAM Foundations skills? This is perfect!
In this class we'll use mats, platforms, targets, and stations of various kinds. You'll be able to find, buy, or make placement props sized for your own dog. Even plastic shelving can become a platform, and even a canvas chair can be a station. It just depends what you want your dog to do with it.
First, we'll work with your chosen props to create attraction for them. Then we'll build value for assuming certain positions on them. We'll use shaping techniques and we'll play games designed to get behaviors without fuss or stress.
Learn all about my favorite ways to teach tricky stuff. Simple things like patience in front of company. Complex things like "Go over there and do the thing I taught you on that prop, then come here and put yourself on this prop just so and look up at me with your cute face." Hard things like hurry up and wait. Frustrating things like "Wait here while all the fun things happen in front of you." And cool stuff like "Ready? It's your turn to GO!"
There are NO prerequisites for the class, but please check out the ideas for stations which I posted in the Prerequisites & Supplies tab.
This class makes difficult concepts feel easy and fun, all with the use of placement props.
Note: The instructor for this class is currently undergoing treatment for cancer. We have every expectation that she will be able to teach this class fully but realize that illness is unpredictable. In the event she is unable to complete teaching there will be no refunds but students will receive full access to all course materials.
Teaching Approach: This class is largely hands-on training with practice and coaching. There will also be critical thinking about how to use stations along with back-up information about what different stationing procedures do for the dog's mind. There will be a lecture released on the first day of each week, and supplemental lectures released during the week. The foundations of the first week are very important even if your dog "already knows how" to station! See the sample lecture for more info and videos on how I build magnetized stationing. If you start from the beginning you'll get the most from this course.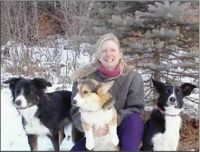 Instructor:
Julie Daniels
Julie Daniels (she/her) won her first award for writing in the fourth grade, and she was training dogs long before that. Today Julie Daniels is one of the foremost names in dog agility in the United States. She was one of the early champions of the sport and helped many clubs throughout the country...(Click here for full bio and to view Julie's upcoming courses)