Course Details
This class covers everything the handler needs to know to get organized and get started in tracking. We will discuss topics such as equipment preferences, other equipment needed, how to develop a start routine, tracking schedule, and initial training goals. This class will also cover what the tracker needs to know regarding environmental conditions, scent theory, and how to select tracking fields to shape correct behavior. The dog will be introduced to beginning tracks, with an emphasis on developing an independent tracking dog – how to let the track do the teaching.
This program uses targets with food on them and then, as soon as possible, we swap the targets out for food-less articles. So while we do use food, hopefully, something the dog really likes, the goal is for the dog to quickly learn to track between the targets or articles.
Teaching Approach
This class starts with dogs who are brand new to tracking (or ones who are repeating other foundation training), so we start from the very beginning and proceed in a methodical step-by-step manner. With each Gold student, I will review their video and then advise them on how to set up the next track. If the dog is doing well, I usually just suggest the next step. If changes need to be made I try to explain why I am making them. Lectures will be released once a week and each one builds upon the previous one. There is usually a wide enough variety of dogs in the class so that that bronze and silver students can identify at least one dog similar to theirs. Please contact me if you have any additional questions about the format of the class.
This class with have a Teaching Assistant (TA) available in the Facebook discussion group to help the bronze and silver students! Directions for joining will be posted in the classroom after you register and before the start of the class.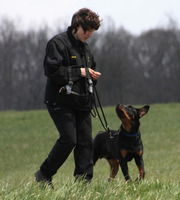 Instructor:
Lucy Newton
Lucy Newton (she/her) has been training dogs and teaching dog training almost all her adult life. She was a search & rescue dog trainer, handler, and instructor and trained numerous personal dogs for wilderness search and rescue, as well as land and water human remains detection. Working with very active wilderness SAR teams, she worked on a large number of missing person cases in both urban and very remote wilderness locations. (Click here for full bio and to view Lucy's upcoming courses)