Course Details
This class covers everything the handler needs to know to get organized and get started in tracking. We will discuss topics such as equipment preferences, other equipment needed, how to develop a start routine, tracking schedule and initial training goals. This class will also cover what the tracker needs to know regarding environmental conditions, scent theory and how to select tracking fields to shape correct behaviour. The dog will be introduced to beginning tracks, with an emphasis on developing an independent tracking dog – how to let the track do the teaching.
This program uses the "targeting of articles" method, which means, depending on the drive of the dog, food on the track will be limited and/or quickly phased out. If you live in a place where food on the ground is not an option, you'll definitely want to check this out!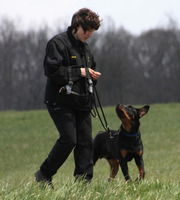 Instructor:
Lucy Newton
Lucy Newton has been training dogs and teaching dog training almost all her life.