Course Details
Arousal Layering Games is a class designed to help you teach your dog how to think better under high levels of arousal. This class introduces fun games that aim to teach our dogs how to concentrate when they are spinning out of control.
The class centers on arousal regulation as a concept that we must teach our dogs out of context. Much like we would teach body awareness games to a dog before teaching them weave poles or the teeter, we should teach arousal regulation as a concept too. Arousal layering games are desgined to help the dog practice self-regulating.
By utilizing a training system that helps the dogs control themselves we will turn that barking-biting-spinning-screaming mess into a collected sports dog.
This class assumes students have been through Sarah's Worked Up program, and relies heavily on a sustained targeting behavior as well as marker cues.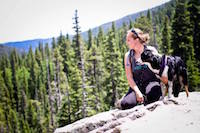 Instructor:
Sarah Stremming
Sarah (she/her) has been working with dogs in the realms of performance training and behavior solutions for over a decade. She currently operates online through her business, The Cognitive Canine. Her special area of interest has long been helping dog owners address behavioral concerns...(Click here for full bio and to view Sarah's upcoming courses)