Course Details
In this class, we will use shaping principles to build confidence and teamwork. We will focus on the details in order to enjoy the concepts. No previous experience is required of dog or handler.
We'll begin by Establishing Operations, using the environment to set up for success. Then we'll manipulate the elements of Criteria, Reinforcement, and Timing. So many variables are in play! Learn to see more, and have fun honing your shaping skills!
Many of my favorite confidence-building games are perfect training grounds for practicing the craft of shaping. We will use various props and targets which you will be able to find or make. Everyone will use a raised platform, a paw target, and a nose target. You'll be able to work on general confidence as well as behaviors specific to your own chosen activity. This class will benefit any sport, from agility and obedience to K9 Fitness, the Fenzi TEAM titling program or the AKC Tricks titling program. We will use clean mechanics and keen observations to break the elements of difficulty apart. Our video submissions will be short and to the point.
We will focus on the details of marking behaviors and using reinforcement. There are so many helpful elements which benefit the learning process! Most of these are aspects which we the trainers can control. We can improve the operation and our skills in order to make learning easier and more fun for both of us.
The primary goal of this class is to get to the concepts. We want to foster Attraction, Curiosity, and Initiative in our learners. From those concepts we can continue our skillful mechanics to build any particular behavior we might want to shape in the future.
This class is for anyone who wants to become good at the process of shaping! There are no prerequisite classes, and all dogs are welcome. The class will benefit teamwork for life skills or for any sport. It's a relationship class, a skills class, and a concept class. All rolled into a fun-filled mix of science, artistry, humor, skills, and getting inside your dog's head.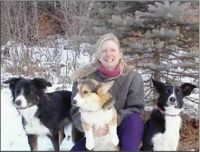 Instructor:
Julie Daniels
Julie Daniels (she/her) won her first award for writing in the fourth grade, and she was training dogs long before that. Today Julie Daniels is one of the foremost names in dog agility in the United States. She was one of the early champions of the sport and helped many clubs throughout the country...(Click here for full bio and to view Julie's upcoming courses)