Course Details
If you think competition dog sports looks interesting but you're overwhelmed at what it might take to get "from here to there" then this is the class for you!
The lectures in this class will start with "Get a dog!" I bet you have that already, so one down and eighteen to go!
From there, we'll consider all of the pieces required to train a dog for competition, broken down into manageable and distinct pieces. We'll learn how to do proofing, reducing reinforcement, and taking your training on the road, and then we'll build those pieces back up into the exercises required for your competition. In the process, we'll also talk about your dog's temperament, the expectations of the competition environment that you have targeted, and create a plan for exactly how you will get there.
On the one hand, it's simple. If you follow these steps for all of your behaviors that you need for competition, you will find yourself with a well-trained dog at a dog show. On the other hand, nothing is simple about training a dog!
This class will provide you with an overview and help you understand your strengths and weaknesses; other classes at FDSA will help you work through the details.
The ideal time to take this class is after you've already started some dog training, feel pretty sure that you'd like to learn more about competition, and are hitting that point where you're a little overwhelmed by the entire process, but before you've actually earned a competitive title. This is a "help I'm overwhelmed by the future" course that can also be used for check for holes in the training of a dog who is almost ready to compete. Denise can help.
Is this course right for you? This class offers extensive lectures, problem solving and a specific set of exercises and criteria, to inform the handler when they will want to consider the next step. Each step is heavily illustrated with videos - the videos do not require the ability to hear them in order to illustrate the lectures effectively. This class will work best for students who enjoy reading, prefer a structured route with discrete steps to follow to find their strengths and weaknesses, and who can take the next steps (filling in those holes!) on their own - or who are comfortable seeking out the resources at FDSA or elsewhere to help with those missing pieces.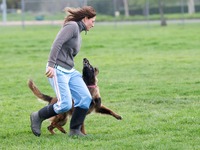 Instructor:
Denise Fenzi
Denise Fenzi (she/her) has competed in a wide range of dog sports – titling dogs in obedience (AKC and UKC), tracking (AKC and schutzhund), schutzhund (USA), mondioring (MRSA), herding (AKC), conformation (AKC), and agility (AKC). She is best known for her flashy and precise ... (Click here for full bio and to view Denise's upcoming courses)