Course Details
This class is all about foundations! Start a new dog on the right foot or discover missing pieces in your training. This class is designed to cover all the exercises in TEAM Level 1. The TEAM program lays out the building blocks for developing very solid behaviours that the dog can perform in a variety of unique presentations!
The 10 skill areas assessed in TEAM include: Engagement and Focus, Recalls, Fronts, Distance work, Targeting, Jumping, Scent Work, and Impulse Control. The individual pieces of exercises are broken down for you in manageable steps! Introducing all the core areas from the start makes sure that obedience remains fun for both the dog and the handler!
This is an introductory course and makes no assumptions about your dog's prior knowledge.
This class can help you prepare to title by video in TEAM or simply give you an excellent set of foundation skills for any dog sport or competition venue such as AKC, CKC or FCI obedience, freestyle, etc.
Teaching Approach
Lectures are released at the start of each week with the majority of lectures released within the first 4 weeks. The lectures are broken down by each skill; highlighting multiple parts. Each lecture has objective of the exercise, applications followed by written instructions and video examples for each step. The videos are generally 1 to 2min long and show actual training sessions. No voiceover is used during video however, occasional subtitles are in the video. Homework summaries are at the end of each lecture.
For more information on the TEAM titling program, please visit www.fenziteamtitles.com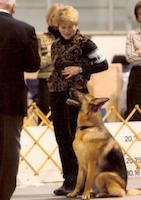 Instructor:
Heather Lawson
Heather Lawson (she/her) is a Certified Professional Dog Trainer - Knowledge Skills Assessed (CPDT-KSA) and also a Karen Pryor Academy Certified Training Partner (KPA-CTP), a CGN evaluator and a free-style judge. She has been training dogs and their humans for more that 20 years after deciding that...(Click here for full bio and to view Heather's upcoming courses)