Course Details
Can your dog pick out the identical matching item you're holding or pick out an item from a pile that you've previously touched? Ever wondered just how far you can go in stretching your dog's cognitive abilities? In this class, we teach your dog the concept of "matching to sample" - either through a visual match or scent match of various items using the single cues: "Match It" or "Find It".

Your dog will learn to VISUALLY pick out the identical corresponding item you are holding from a group of both familiar and novel (unfamiliar) items. In addition, we'll add the MATCH MY SCENT - Find The One That Smells Like Me to this class where your dog will pick out the scented object from a group of objects which is the beginning stage of teaching your dog to find a particular scent - generally yours or it could be another odour.

The "Match To Sample" class is one of the MUST-HAVE foundation concepts that is used in training other broader concepts such as Modifier Cues, Adduction, Mimicry AND even Counting which were brought to the attention of the general training community by individuals such as Claudia Fugazza and Ken Ramirez.

The ADDED BONUS of Match To Sample is that the skills learned in this class are easy carry-over skills for other dog sports such as Obedience, Nose Work, and the Fenzi TEAM Titles Titling Program.


Teaching Approach
Lectures are released at the start of each week with the majority of lectures released within the first 4 weeks. The lectures are broken down by each skill; highlighting multiple parts. Each lecture has the objective of the exercise, applications followed by written instructions and video examples for each step. The videos are generally 1 to 2min long and show actual training sessions. No voiceover is used during video however, occasional subtitles are in the video. Homework summaries are at the end of each lecture.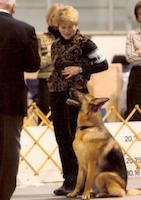 Instructor:
Heather Lawson
Heather Lawson (she/her) is a Certified Professional Dog Trainer - Knowledge Skills Assessed (CPDT-KSA) and also a Karen Pryor Academy Certified Training Partner (KPA-CTP), a CGN evaluator and a free-style judge. She has been training dogs and their humans for more that 20 years after deciding that...(Click here for full bio and to view Heather's upcoming courses)