Course Details
This course is all about dogs that have been labeled as shut-down, down-stressors, shy, or low-drive. Dogs that run fast in training but slow in trials, dogs that have good days and bad ones, dogs that give up on training, and dogs that seem to prefer the couch to the clicker. This course will help you to build confidence, address the stress, and tailor your training to bring out the potential of your reluctant dog.
Teaching Approach
Lectures are released weekly, in one chunk. They include written instructions, and often video as well. My feedback tends to be detailed and compassionate. My classes tend to be very conceptual, rather than skills-based. That means sometimes we have deep philosophical conversations, not just "do this, then this." I focus on clean training, so some body awarness and the dexterity to handle food is required. In general, I can work with you and your dog's limitations, and will be honest if something is a problem--whether or not it's something we can change. My honesty is kind, I do not consider myself "blunt," but I will not lie to you to preserve your feelings. Typically students walk away from my courses with a deeper understanding of their particular situation, and a plan to move forward. I like actionable steps, and I will focus on giving them to you, even if we are also philosophizing together.
This class will have a Teacher's Assistant (TA) available in the Facebook study group to help the bronze and silver students! Directions for joining that Facebook group will be in the classroom after you register.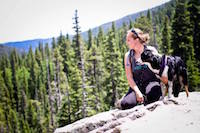 Instructor:
Sarah Stremming
Sarah (she/her) has been working with dogs in the realms of performance training and behavior solutions for over a decade. She currently operates online through her business, The Cognitive Canine. Her special area of interest has long been helping dog owners address behavioral concerns...(Click here for full bio and to view Sarah's upcoming courses)