Course Details
Do you wish you were a better handler? Handling is 80% dog / 20 % handler. How you handle makes a huge difference in your performance and in your pass rate.... it drives those "P's" and "Q's"!
In this class we will be all about the details... Learn how to handle through critique.
You will learn HOW you body motion affects the dog, everything from your shoulders to the angle of your body with respect to the dog's position. You will learn the art of releasing body pressure in a way that will minimize false alerts or unintended cues. We won't be "proofing off of" body motion, but rather will learn how to use our motion and position in order to become true teammates with our dogs.
You will be presented with an entire handling system and will be taught how to handle effectively, as a teammate, without negatively impacting your dog. Good handling is the foundation of teamwork. It's a skill that takes time to hone but it beautiful to see when it all comes together!
Learn how to make it look EFFORTLESS....
THERE WILL BE A TEACHING ASSISTANT (TA) FOR THIS CLASS!!
LOTS of NEW material for April 2020
Sampling of new topics:
The art of handling the known hide
Handling in tight spaces
Handling the fast dog
Handling the sensitive dog
Impact of gear choices
How to NOT over-handle your dog
Using handler influence as suggestive, not directive
Handling using a pattern without over-handling
Knowing WHEN to pattern versus not pattern
How to use a Soft Pattern rather than a prescriptive pattern
Handling off leash like you would on leash
Knowing when to change your strategy and how to adapt and continue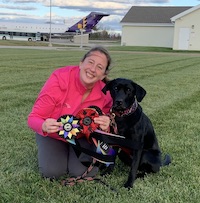 Instructor:
Stacy Barnett
Stacy Barnett is a top nosework competitor and trainer, being the first handler to title multiple dogs with multiple Summit Level titles in the National Association of Canine Scent Work (NACSW), (Judd SMTx3, Brava SMTx2). Stacy has been a faculty member at Fenzi Dog Sports Academy since 2015 (Click here for full bio and to view Stacy's upcoming courses)