Course Details
Many dogs start out their agility career with a good start line. But, over time that start line behavior deteriorates. Why do good start lines break down for some dogs and not others? How can some dogs have great start lines and other dogs struggle when you have trained the same way and handled the same way?
In this class, you will build a start line behavior from the ground up and add handling that is essential in maintaining that behavior throughout your dog's agility career. Agility trainers focus a lot on the training and handling on their dogs while the dog is running a course. Not enough people understand the importance of the training and handling involved before the dog starts running. That's what this class will focus on
This class is perfect for young dogs that have not started trialing. It will also be helpful for dogs that have start line issues at the trials. It is strongly suggested you refrain from trialing your dog while you work through this class.
This class is not intended to address emotional issues such as over arousal or fear issues (dogs not in control of themselves emotionally around agility).
This class will have a Teacher's Assistant (TA).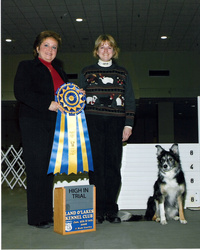 Instructor:
Nancy Gagliardi Little
Nancy Gagliardi Little has been training dogs since the early 1980s, when she put an OTCH on her Novice A dog, a Labrador retriever. Since then she has put many advanced obedience titles on her dogs, including 4 AKC OTCH titles, 6 UD titles, 3 UDX titles, and multiple