Course Details
Are you ready for the next step in your journey with your dog? Are you ready to communicate in a way few have explored? You've heard of it! You know you want to do it! You can! And so can your dog! Teaching dogs the concept of mimicry has come to the attention of many dog trainers through the work of Claudia Fugazza and Ken Ramirez. In this course, you'll explore the cognitive abilities of your dog and how they view your behavior in relation to their own. You'll learn a step-by-step protocol to teach your dog to mimic your behavior and then transfer that understanding in the teaching of new, unknown behaviors. In teaching your dog to imitate and mimic the behaviors you demonstrate, you'll achieve a unique way to connect and communicate to your dog, and I can't wait to share that with you!
This course is based on Dr. Claudia Fugazza's "Do as I do" protocol.
Note: This class WILL use a Teaching Assistant in the Facebook study group. If this is important to you then please read the directions in the discussion forum of this class for how to join after you register.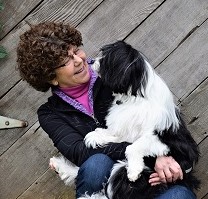 Instructor:
Julie Flanery
Julie Flanery (she/her), CPDT-KA has been working professionally with dogs and their handlers since 1993. She focuses on the needs of the dog and helping people form a strong relationship, through clear communication, and positive reinforcement. She has placed Obedience...(Click here for full bio and to view Julie's upcoming courses)