Course Details
Want a strong, motivated retrieve of the dumbell and a good foundation for utility exercises? Join me as I teach you how to create a firm hold, the end skill in the complex retrieve chain. Our basic goal is a dog who thinks that holding skill is the best part of the whole thing, and hurries to get there when we ask for a retrieve. Importantly, we'll also be covering how to create a dog that starts the action and demands the opportunity to hold the dumbell, a crucial part of achieving total "buy in" from your learner dog. Teaching a hold is hard and sometimes we as handlers need that information from our dogs.
This class is for creating a formal retrieve, not for retrieving toys. (that information can be found in the toy class!) Dogs are expected to be strongly motivated by either food or to have the basic toy skills (bringing back to drop or tug, and dropping toy on ground as well as shaping witin the toy game concepts) if the handler wants to use toy skills as a reinforcement.
We will spend some time on refining both food and toy reinforcements, figuring out what is the most exciting for teaching this hard behavior.
Other skills needed:
chin rest
fronts-or almost a front, sit on a platform can be considered good enough.
Teaching Approach:
Bullet points, lecture and short videos outlining each step. Printed steps, minimal talking in the actual videos.
Teaching assistant for the October term. Their job is to faciliate engagement and participation for the silver and bronze levels.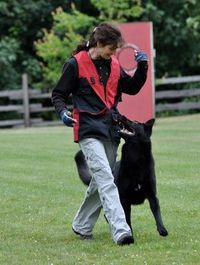 Instructor:
Shade Whitesel
Shade Whitesel (she/her) has been training and competing in dog sports since she was a kid. Always interested in how dogs learn, she has successfully competed in IPO/schutzhund, AKC obedience and French Ring. Her retired dog, Reiki vom Aegis, IPO 3, FH 1, French Ring 1, CDX, was 5th at the...(Click here for full bio and to view Shade's upcoming courses)