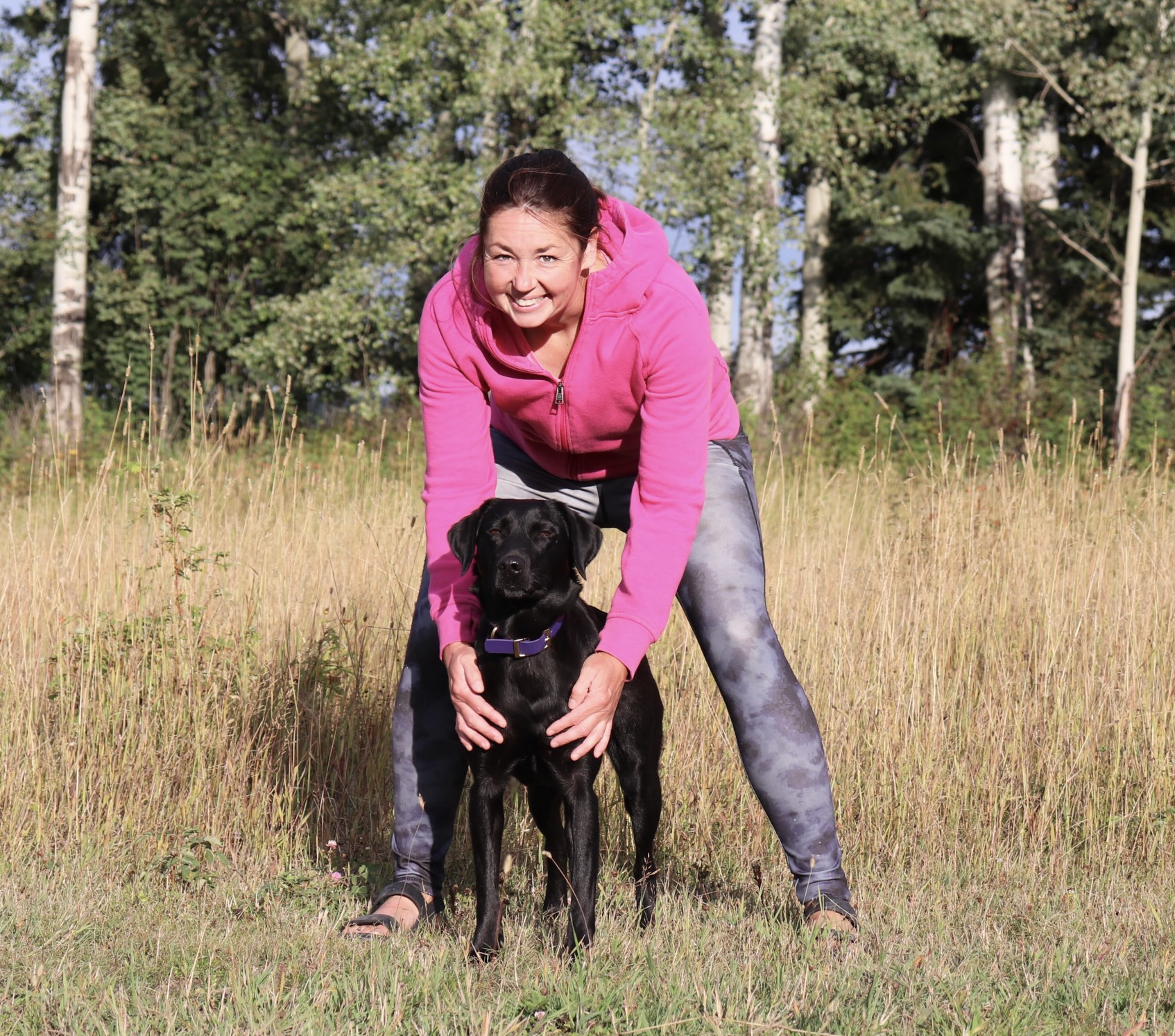 Erin (she/her) is a lifelong dog enthusiast from Quesnel, British Columbia, Canada. Erin is certified as a Karen Pryor Academy Training Partner, a Certified Professional Canine Fitness Trainer, a Licenced Family Dog Mediator, and as a Cani-Fit Leader. She is also holds judging certifications in dock diving, disc, and scent work. She breeds Labrador Retrievers with a performance focus under the Eromit kennel name and spends most of her waking hours doing dog things of some sort or another.
Erin's journey in dog sports began as a junior handler, first in obedience and then more seriously when her family took up dog sled racing. She spent ten years as a competitive sprint racer specializing in 4 and 6 dog class with both Labrador Retriever and Alaskan Husky sled dogs. During her university years, where she studied Biology and Animal Science, Erin fostered a variety of breeds and mixes through her local shelter- also working as an adoption councillor and animal attendant for 6 years. It was around that time that a friend introduced her to the sport of agility and that brought about a whole new training passion!
Just like her Labs, Erin enjoys all the sports and the variety (and challenges) that cross-training brings. She has earned multiple national and regional championships, high in trial and perfect scores across various sports and set records in dog sledding and dock diving. However, Erin is most proud of the joyous attitude her dogs are known for in the competition ring, and her ability to balance training aspirations with her ultimate goal of creating a fulfilling life for her dogs.
As an instructor, she believes in teaching her students with a 'fun-first' philosophy for both the people and the dogs, and helps them develop a special bond with their dogs whether training as pets, in fitness or in sports. Her training facility - Eromit AIRcademy- was voted the North America Diving Dogs 2019 Canadian Facility of the Year, and has hosted sanctioned dog diving trials for the last 9 years including 3 championship events. Private and group lessons and seminars are available seasonally, as well as year-round online training.
Erin shares her home with her equally dog-loving husband Tim, a dozen or so wild and wonderful labradors, and their newest addition: Leroy the beagle. Their family also includes 2 cats, pigeons, and some mixed breed clicker-trained sheep.
Erin's Current and Upcoming Classes
As the owner of multiple dogs in their double digit years, each at various stages of 'aged to perfection', I understand the challenges that can come with having an older...
December 1, 2023
Are you interested in dock diving and want to give your dog a great foundation before you even hit the pool? Or perhaps you've been to the pool with your dog and things ...
April 1, 2024