Instructor: Stacy Barnett
Course Details
Elite Division Trials are intended to put the advanced Nosework team to a true test. The challenges are EXTREME and so is the fun level. This course is intended to help you to prepare or improve on your performance at this level. We will cover the EXTREMES and then at the end of the course bring the components together. Join me in training for the ULTIMATE challenge!!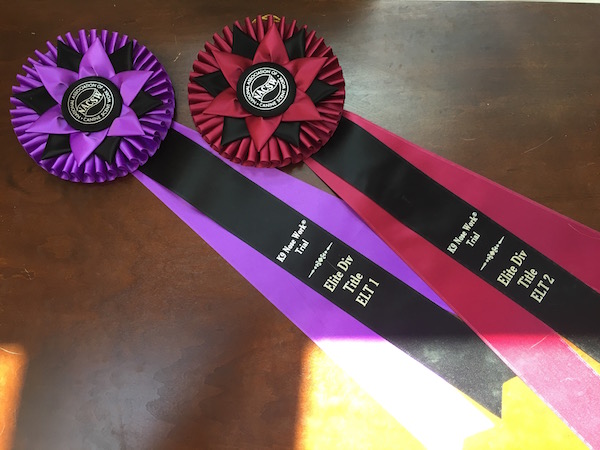 Registration
There are no scheduled sessions for this class at this time. We update our schedule frequently, so please subscribe to our mailing list for notifications.
Registration will begin at 11:00am PDT.
For answers to commonly asked questions see our FAQ page.
Enrollment limits: Gold: 12 students, Silver: 15 students, Bronze: unlimited.
SILVER LEVEL PILOT PROJECT - In addition to asking GENERAL clarification questions about the class lecture materials, silver students will now have the opportunity to submit two short videos, one minute each, for critique and review. You may submit two questions. Each question MUST have a one minute video attached so the instructor can actually answer a question that they can see. The question must relate to a topic in the class and the video must be a demo of the question. Please see the discussion forum for a detailed explanation - feel free to sign up at bronze, read the explanation, and then come back here to upgrade to silver if that interests you, and if space is available.
If you are interested in a bronze level subscription, you can sign up at any time during the registration period.
Syllabus
Week 1: Intro to Elite Preparation
What is an Elite Division Trial and how is it scored?
What to expect at an Elite Division Trial
What it takes to be successful
A Judge's Perspective (article reprinted with permission)
What, no Elements???
"Broader" criteria for a Yes?
The Four S's: Skills, Stamina, Speed and Strategy
Common Pitfalls for the Elite Team
Handler Mental Focus and Stamina
Assessing your Team
Conditioning Aspects - Stamina Plan
Week 2: Preliminary Skills
Rewarding Quickly
Keeping Track of your Hides
Reading Your Dog's Alert
Introducing Mixed Element Searches
Effective Search Patterns to Know Where You've Been
Back to Back Searches
Off leash Independence
Ignoring a Previously Found Hide
Stamina Plan Check-in
Week 3: SKILL - Extreme Convergence
Close Convergence
Working your Mirrored Hides
To the Left and to the Right
Don't forget vertical space!
Layered Hides
Stamina Plan Check-in
Week 4: SKILL - Extreme Elevation
High Hides
Elevated Hides with Convergene

High / Low Combinations
Layered Hides with Elevation
Layered Hides with Elevation and Convergence

Suspended Hides
Do you risk a No?
Stamina Plan Check-in
Week 5: SKILL - Extreme Area Size
Stamina with a Capital S
Challenges of Speed
Speed Searches
Effective Search Patterns
Stamina Searches
Stamina Plan Check-in
Week 6: Bringing it All Together
Extreme Number of Hides: Known Number, Range or an Unknown Number
Searching Known Number with Tight Times
Multiple Skills in One Search
Stamina Plan Check-in