Course Details
ADVANCED WEAVES
This class is designed to take your 12 good weaves from competent to extraordinary! We will be playing games and using props, clickers, toys, and treats of all sorts to increase your dog's skill level and conceptual understanding of weave pole performance.
We will be skillbuilding for difficult onside and offside entries including lap turns, external pressure and visual complexities. The dogs will learn to enter independently, ahead of you and behind you. We will also cover forward and lateral handler distance, layering, front, rear, and blind crosses before and after the weaves, and even conflicting motion.
This is NOT the class to take if your dog has a foundation weave issue. The subject of overall happiness with the task of weaving is covered thoroughly in Foundation Weaves (AG240) because attitude is way more fundamental than 'more, better, faster.' In other words, if your dog really does not want to weave, then he will not enjoy the challenges of this class. Please, please, take AG240. That is the class for all the fundamentals and concepts of weaving, even if your dog can get through 12 poles. I can definitely help you improve your dog's enjoyment of weaving, and I would love the chance to do that.
AG240 is NOT a prerequisite to this class, but it is recommended and will be available in the prerequisite store during this October enrollment period. The only prerequisite to this class is that your dog be happily weaving 12 regulation poles. It's not a speed prerequisite, but it is a general attitude prerequisite. That said, your dog will love weaving even more as we play these games.
And we are going to run with that! This class will be lots of fun. I am open to all sort of props or no props at all. I love channels and 2x2s, expens and wires and straight shaping. I have taught great entry skills with a target stick. You don't have to use any of these things, or you might want to try them all. I can help you use your own ideas in a constructive way. We can build skills that you didn't think your dog could understand.
Equipment: You will benefit from having jumps and tunnels to put in sequence with the weaves as we go along, but you can do these homework exercises with only 12 weaves and two jumps, plus enough space to run sequences at your dog's full speed. The more speed you have, the more space you will need to use as the class goes on.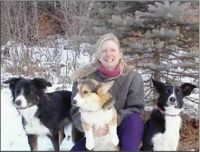 Instructor:
Julie Daniels
Julie Daniels (she/her) won her first award for writing in the fourth grade, and she was training dogs long before that. Today Julie Daniels is one of the foremost names in dog agility in the United States. She was one of the early champions of the sport and helped many clubs throughout the country...(Click here for full bio and to view Julie's upcoming courses)