Course Details
This workshop is all about helping your dog become comfortable with a variety of types of touch and handling. This work is the foundation for all future cooperative care procedures and it pays big dividends to spend a little time dedicated to making it as pleasant as possible for your dog.
It turns out that handling your dog is not only a cornerstone for future work, it is also vital to monitoring his physical comfort levels and emotional state. Being able to put your hands on your dog and feel the tightness or looseness of his muscles as well where he might have sensitive or sore spots is important for maintaining his well being and gauging his comfort level.
You might think that a workshop dedicated only to touching your dog would be very simple and straightforward, but it's definitely not! Every dog offers unique challenges when it comes to tolerance for touch and physical manipulation. Our goal is to convince our dogs that touch is GREAT!
Some of the types of physical interaction we will cover in this workshop include:
Reach
Touch
Poke
Pat
Stroke
Grab
Pinch
Push
Squeeze
Pressure
Hold
Some of the body parts we will practice our handling on include:
Head (muzzle, ears)
Neck
Shoulders
Front legs & feet
Spine
Chest
Belly
Tuck up
Hips
Back legs & feet
Tail
*This workshop will also include a bonus lesson on introducing tools for grooming and veterinary care into your handling.
During all of our work we will be focused on carefully reading our dogs' body language and maintaining their interest and enthusiasm during the training process. The most successful teams will include dogs who are food motivated. Working for 3-4 short 2 minute or less sessions per day is suggested for the best results.
Watch the Trailer
---
Lecture Publish Date: Sunday Oct 1st
Video Submissions Due Date: Sunday Oct 8th @ 12pm noon PT
Feedback & Questions Video Publish Date: Wednesday Oct 11th
---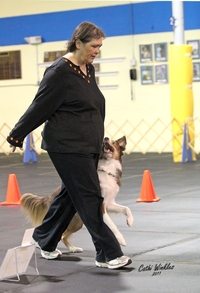 Instructor:
Deborah Jones
Deborah Jones, Ph.D. (she/her) is a psychologist who specializes in learning theory and social behavior. She taught a variety of psychology courses at Kent State University for the past 20 years. Deb has been training dogs for performance events for the past 25 years and was an early...(Click here for full bio and to view Deb's upcoming courses)