Course Details
You know that a dog who is focused is a MUCH easier dog to train. You know that time spent working on focus is always a good thing. Even so, there may be roadblocks keeping you from moving forward with your focus training. First, you don't know exactly what to do. Second, even if you are familiar with focus work, you don't know how to apply it to be most efficient and effective.
In this FDSA workshop Deb Jones, originator of the Focus training system, will guide you through the steps that will help you take your dog's ability to focus to the next level. In only 7 days you CAN see a difference. And 7 days is enough to put you on the road to some lasting positive changes. If you are serious about making changes then this is the workshop for you!
In this workshop Deb will discuss the following:
A clear working definition of focus
Setting realistic focus expectations
Changing YOUR approach and mindset to focus work
Making focus sessions as effective and efficient as possible
The role of acclimation in focus training
Choosing training locations wisely
The importance of generalization
She will also demonstrate and explain the following exercises:
Rapid fire treats (RFTs)
Offered focus
Active releases / Two treats game
Starting and ending sessions
Disengagement protocol
Sustained focus / Moving focus / Quick change
Daily focus training assignments will be given.
---
Note: This is a repeat workshop that has run previously under a different course number. Please review your workshop library to make sure this would not be a duplicate purchase.
---
Watch the Trailer:
---
Lecture Publish Date: Sunday Mar 5th
Video Submissions Due Date: Sunday Mar 12th @ 12pm noon PT
Feedback & Questions Video Publish Date: Sunday Mar 15th
---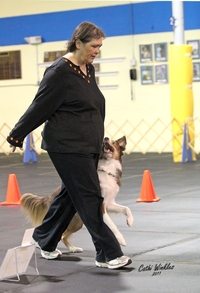 Instructor:
Deborah Jones
Deborah Jones, Ph.D. (she/her) is a psychologist who specializes in learning theory and social behavior. She taught a variety of psychology courses at Kent State University for the past 20 years. Deb has been training dogs for performance events for the past 25 years and was an early...(Click here for full bio and to view Deb's upcoming courses)