Course Details
Toys are awesome! Food is awesome! But very little can beat genuine and warm personal interactions for building a basic relationship with our dogs that relies on nothing more than friendship and fun!
If you want to learn how to play with your dog - whether your dog is a reserved wallflower or a hardcore rambunctious beast — then this workshop is for you. We will learn how to to play with our dogs by taking advantage of their natural tendencies and asking questions like…
How do they play with other dogs?
What do our dogs see, hear, and feel when you interact with them?
How might tiny but subtle changes to our posture and behavior make an enormous difference in our dog's comfort and willingness to engage with us?
How might we play in small spaces when we cannot or will not run around like crazy people?!
What can we do to control biting and overarousal?
And who said play has to be crazy and rambunctious anyway? (hint: It does not).
Let's look at these topics together! If you've always envied people who had excellent personal interactions with their dog, or if you already have great interactions but you'd like to learn more about subtle changes that you can make to enjoy notable improvements for your team, you'll want to join this workshop.
---
Note: This is a repeat workshop that has run previously under a different course number. Please review your workshop library to make sure this would not be a duplicate purchase.
---
Watch the Trailer:
---
Lecture Publish Date: Sunday Feb 26th
Video Submissions Due Date: Sunday Mar 5th @ 12pm noon PT
Feedback & Questions Video Publish Date: Sunday Mar 8th
---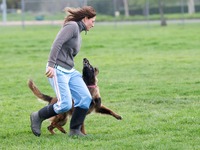 Instructor:
Denise Fenzi
Denise Fenzi (she/her) has competed in a wide range of dog sports – titling dogs in obedience (AKC and UKC), tracking (AKC and schutzhund), schutzhund (USA), mondioring (MRSA), herding (AKC), conformation (AKC), and agility (AKC). She is best known for her flashy and precise ... (Click here for full bio and to view Denise's upcoming courses)