Course Details
Open Obedience Foundation Fun!
It's time to move away from thinking of obedience as serious. An open run is really just a long chain of pet tricks! Breaking the exercises into small pieces and teaching each piece as a trick keeps it fun for both you and your dog. Dogs love it and you will too! Eventually the pieces themselves become inherently self-reinforcing. In this class we are going to lay the foundation for all the Open Exercises (EXCEPT for Heeling and the Figure 8). Each exercise will be broken down. Mastering all the pieces will give your dog confidence. I will also introduce dogs to the idea of backing into pressure and being comfortable waiting while we move away from them. Set a solid foundation and you will have an awesome Open dog!!
Teaching Approach
This class will have written and video lectures each week. Each lecture will be broken down into small pieces. There will be video examples demonstrating all exercises. Because everyone has their own learning style, I encourage students to move at their own pace. I understand that each dog and handler are unique and do my best to accommodate their needs. Students will need to move around with their dogs as is required for open exercises. I will work with you to modify the exercises to your abilities. A few of the games will require quick physical movement from the trainer for short periods and distances. Later in the class students will need access to a space large enough so they can play games that involve the dog running and jumping over the broad and high jumps.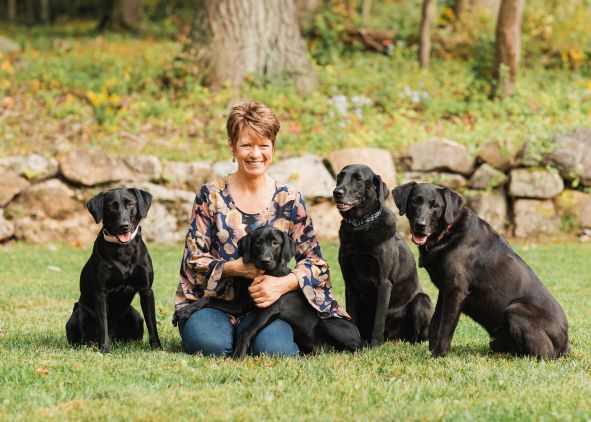 Instructor:
Petra Ford
Petra (she/her) graduated from Rutgers School of Health Related Professions 17 years ago with a degree in physical therapy and has experience working with an extremely varied caseload including pediatric through geriatric clients with a vast range of diagnoses. Her areas of expertise included in-patient rehabilitation, orthopedics and neurology. (Click here for full bio and to view Petra's upcoming courses)