Course Details
Teaching and maintaining functional toy play with our dogs can be a frustrating task. We want to create a game that is not only fun for our dogs but one that can be easily used to aid our sport dog training. Often though, we can end up with toy play that is fragile, unable to withstand distractions, problematic toy play with habits such as "keep away" built in or toy play that is unbalanced and steeped with over-arousal.
Training toy play with food helps to prevent many of the problems we encounter with functional toy play. Arousal levels around toys will be more balanced and our dog will be able to switch reinforcers easily. Criteria such as bringing the toy back after a through or dropping the toy when cued will be clear and easily maintained making it easy to use in training situations. Having the ability to reinforce toy play with food will allow you to teach toy play around distractions with greater success.
In this workshop, we will discuss how to teach toy play like a behavior beginning with picking up a novel object and building to playing fetch and tug.
Watch the trailer
---
Lecture Publish Date: Sunday Feb 27th
Video Submissions Due Date: Sunday March 6th @ 12pm noon PT
Feedback & Questions Video Publish Date: Wednesday March 9th
---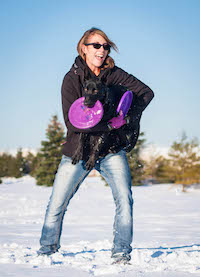 Instructor:
Sara Brueske
Sara Brueske (she/her) has been training dogs for over 15 years, and has experienced a large variety of breeds and sports during that time. Having graduated as a Karen Pryor Academy Certified Training Partner ... (click here for full bio including Sara's upcoming courses)