Course Details
Disengagement is what happens when a dog starts out checked in and then… Disengages! A dog who appeared properly acclimated, opted into work, and then…poof! Changed their mind! Found something better to do! Got worried about the dog around the corner!

So…what do you do when your engaged dog hears a sound and stops working to stare at it? What do you do when your engaged dog spies a cookie on the table and decides to head in that direction instead of focusing on you and the work at hand?

As with so much of dog training, it depends. It depends on the dog you are training and the circumstances that led to the disconnect. But what you do not do is Nothing. Because if you do nothing you are incorporating disengagement into the behavior chain of work, and you really don't want to do that. Kind of…never. Remember, remaining engaged is a habit and the goal should be to stop disengagement while strengthening the habit of engagement.

This workshop is all about disengagement. We will start with the assumption of a properly acclimated dog that has fully opted into work (Engagement training) and then consider in depth what to do if the dog then disengages. This workshop will focus on rally, freestyle, and obedience in particular, and therefore the working spots should be taken by people in those sports. Individuals from other sports will benefit, but will have to take greater responsibility for creating their training path, and will be better suited to auditing spots.

If your dog has issues with disengagement after engagement, either frequently or only on occasion, take this workshop and learn about the pros and cons of different approaches, so that you can create a plan of action.
Watch the trailer
---
Note: This is a repeat workshop that has run previously under a different course number. Please review your workshop library to make sure this would not be a duplicate purchase.
---
Lecture Publish Date: Sunday February 20th
Video Submissions Due Date: Sunday February 27th @ 12pm noon PT
Feedback & Questions Video Publish Date: Wednesday March 3rd
---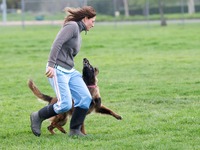 Instructor:
Denise Fenzi
Denise Fenzi (she/her) has competed in a wide range of dog sports – titling dogs in obedience (AKC and UKC), tracking (AKC and schutzhund), schutzhund (USA), mondioring (MRSA), herding (AKC), conformation (AKC), and agility (AKC). She is best known for her flashy and precise ... (Click here for full bio and to view Denise's upcoming courses)