Course Details
Part 2 of a 2 Part Workshop Series. If you've completed your CGC certificate you may be thinking now what? Well, why not continue to grow your knowledge, skills and bonding experience with your dog by tackling the next level REAL WORLD skills and testing offered through the COMMUNITY CANINE and URBAN CGC certificate programs.

Our dogs have become active participants in our everyday life so it's up to us to make sure they have the life skills they need to enjoy these everyday activities with us to the fullest. The CGC certificate starts the ball rolling with basic foundations but it's the COMMUNITY CANINE and URBAN CGC programs that help ensure our dogs have the real world, real life skills and that they can apply them when out and about with us.

IN THIS WORKSHOP WE'LL DELVE INTO:
What both the COMMUNITY CANINE and URBAN CGC program entail

Who can participate (dogs & humans)

Why it's beneficial to our dogs to continue our training

What you need to do to prepare for each of the two tests

Advanced Skills required for the

Community Canine Certificate (10 skills)

Advanced Skills required for the Urban CGC Certificate (10 Skills)

Foundation Basics – How To LEVEL UP from basic CGC

Equipment & Locations needed.
Finally, we'll take a brief look at how these two programs:
Can be beneficial in setting you up for success in other sports




Can be applied to volunteer services




GOLD SPOT STUDENTS WILL choose either the Community Canine OR the Urban CGC program and then submit a 3 minute video & receive feedback on 3 of the skills in the certificate program they have chosen to work on.

PLEASE NOTE: Unfortunately, dog-dog reactivity or interaction problems as well as dog-human reactivity issues CAN NOT be addressed through this workshop.
Watch the trailer
---
Lecture Publish Date: Sunday November 21st
Video Submissions Due Date: Sunday November 28th @ 12pm noon PT
Feedback & Questions Video Publish Date: Wednesday December 1st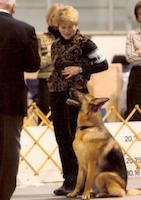 Instructor:
Heather Lawson
Heather Lawson (she/her) is a Certified Professional Dog Trainer - Knowledge Skills Assessed (CPDT-KSA) and also a Karen Pryor Academy Certified Training Partner (KPA-CTP), a CGN evaluator and a free-style judge. She has been training dogs and their humans for more that 20 years after deciding that...(Click here for full bio and to view Heather's upcoming courses)