Course Details
You had a really cute puppy. Now you have a tyrant! Leg-lifting, humping, newfound reactive behaviors, and just plain naughtiness abounds in the 6 month to 2 year range. In this class you'll learn to head off potential issues, determine what is normal development versus cause for alarm, and how to love your silly teenager through it all.
Teaching Approach
Part conceptual, part skills-based, Sarah teaches TT through conversation and skill review. Your dog training will get a tune-up and so will your relationship with your tyrant. Basic skills must be mastred before true mastery of concepts can begin, but Sarah makes it easy and accessible to teach all of the behaviors included in class. Each week you'll receive concepts, skills to work on, and a "SYS" (save your skin) behavior to train. Teams will be able to pick which things work best for them, rather than having to complete each set of behaviors before moving on to the next.
This course has a TA for the October 2021 term.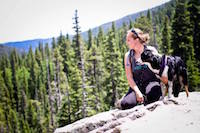 Instructor:
Sarah Stremming
Sarah (she/her) has been working with dogs in the realms of performance training and behavior solutions for over a decade. She currently operates online through her business, The Cognitive Canine. Her special area of interest has long been helping dog owners address behavioral concerns...(Click here for full bio and to view Sarah's upcoming courses)