Course Details
In this class you will learn about massaging your own dog. We will cover canine massage techniques, the muscles we are affecting with massage, muscle anatomy, assessment, palpation, fascia, Tellington TTouch® bodywork, and much more. We'll discuss how to determine which muscle groups are important based on which sports and activities your dog performs.
We will focus on how to do canine massage safely and effectively. You'll learn about stretching your dog and how to help maintain healthy muscle tissue. My goal is for you to know what your dog's healthy tissue feels like and how to help maintain it.
Massage for Performance Dogs is designed for anyone involved in canine sports, including agility, obedience, barn hunt, freestyle, conformation, lure coursing, flyball, SAR, and more. My sport is canine fitness so I include myself in this program. But you don't have to be involved in a sport to participate in this course. Dogs who are not involved in a sport also benefit from massage for their general health and well-being. And if you are spending a lot of time training and competing in your sport, massage will be a nice addition for "off days" or evenings.
This is an introductory course, meaning no prior experience with any of the topics covered is needed. For gold-level participants, I will provide feedback on your massage technique, as well as your own posture and alignment while performing massage, your dog's behavior during massage, and more. I'll give you tips and support on how to be more successful with all of the concepts presented in this course.
Your dog just may become addicted to bodywork!
Teaching Approach:
Lectures will be released weekly and include how to set up the environment, instructions for teaching the behavior, video examples, and benefits. We will focus on the exercises, observation skills, teaching, and your dog's willingness to participate in each session.
This class will have a Teacher's Assistant (TA) available in the Facebook study group to help the bronze and silver students! Directions for joining that Facebook group will be in the classroom after you register.
Effie Sdao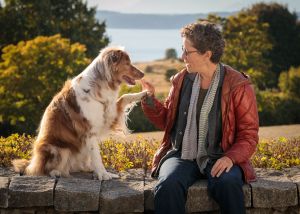 Instructor:
Lori Stevens
Lori Stevens (she/her) (CPBC, CPDT-KA, CCFT, SAMP) is an animal behavior consultant, a professional dog trainer, a canine fitness trainer, an animal massage practitioner, and a senior Tellington TTouch® Training practitioner. ...(Click here for full bio and to view Lori's upcoming courses)