Course Details
NOTE: NW120S has been restructured in order to allow students from NW101 to catch up as needed with the help of either the Instructor (for Gold Spots) or the Teaching Assistant (for Silver & Bronze Spots). Dogs generally pick up and understand Nosework on different learning curves due to a variety of reasons. This restructured approach accommodates these differences with a goal of getting all teams to the same general level of competency by the end of this course.
ALSO NOTE: Due to COVID-19, Novel Interiors will be OPTIONAL.
In this class we will develop and expand on our dog's hunting skills, first starting in Interiors and then moving into Exteriors. We will heavily utilize ROUTINE and contextual cues in order to help the dog to generalize on their skills. Once we have established basic fluency in searching, we will utilize pattern training through hide placement in order to simultaneously introduce vehicles and teach the skill of wrapping around the vehicle. In the final week, we will shift focus to work on Containers and introduce Buried Hides. The understanding of odor and history of passive indications will help the dog to be immediately successful on Containers while minimizing the potential for destructive Container behavior. AKC Buried hides will be introduced although fluency is not expected in Week 6.
In addition to leveling the learning curves of different dogs, this approach is meant to capitalize on the dog's motivation for hunting. This approach maximizes good feelings that come from triggering the Seeking System with "Hunting" and delaying "Selection" type elements such as Containers and Buried.
This class is suitable for all students coming out of NW101 provided that at least a little progress was made as well as being suitable for students from prior NW101 classes who may not have started NW120 or who need a refresher in introducing the elements.
Students coming from NW101 who need a little bit of catch-up can expect new lectures to help them with basic fundamentals which have been developed by assessing the general needs as observed in the Student Study Group and Gold Forums from NW101. Those who are farther along on the learning curve will be able to hit the ground running with a generalization approach that has been developed to make searching new places seamless.
Coming out of this class, students will have the foundations necessary to begin to prepare for Odor Recognition Tests (ORT's) and low level competitive classes.
Long-term success in this sport hinges on a solid foundation and good searching and hide setting habits. This course will get you going in the RIGHT DIRECTION. Teams using Nosework for therapeutic reasons or without competitive goals will appreciate the structures approach that is based on emotional support for the dog and FUN!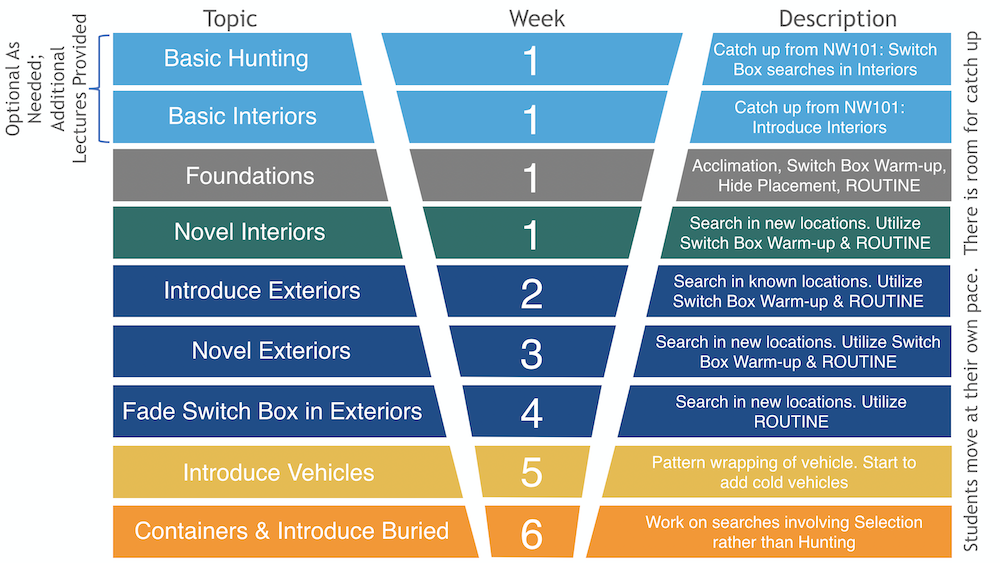 Teaching Approach
Each week you will receive several lectures released at the begining of the week. There will be theory based lectures as well as lectures and assignments on the current topic. Initially, searches can be done at home however the learner will be enouraged to also work outside of the home. This class offers extensive written lectures, no verbal lectures, and videos of varying lengths. It is rare that relevant speaking takes place within a video; they are designed to be watched in order to follow the ideas presented in the lecture. Lecture videos may run from 1 to 4 minutes long, with the average between 1-2 minutes. The lectures are designed to help a student understand the purpose of the topic and how its application might vary by dog. Care is taken so that learners who learn by both watching and reading will be successful.
This class will have a Teaching Assistant (TA) available in the Facebook discussion group to help the bronze and silver students! Directions for joining can be found in the classsroom after you register.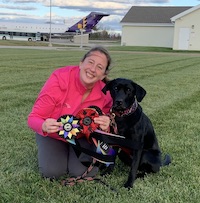 Instructor:
Stacy Barnett
Stacy Barnett is a top nosework competitor and trainer, being the first handler to title multiple dogs with multiple Summit Level titles in the National Association of Canine Scent Work (NACSW), (Judd SMTx3, Brava SMTx2). Stacy has been a faculty member at Fenzi Dog Sports Academy since 2015 (Click here for full bio and to view Stacy's upcoming courses)