Course Details
In this six-week class, you'll learn about how to keep your aging-dog's minds and bodies active. Many dogs appear so much stronger and younger after going through this class. As dogs age, they typically lose hind-end strength, proprioception, and slow down just like we do as we age-- even mentally. As they age even more, they can lose function, e.g. going up stairs or getting in the car. Many of the tools and techniques you will learn in this class can be used with a dog of any age but this class is targeted at middle-age and older.
In this class, you will learn bodywork, fitness exercises and proper alignment, tips for everyday life with older dogs, and much more. You will learn how to support your dog as they age, how to keep them active, and how to keep them functioning in everyday life. If your dog has lost function, e.g. the ability to do stairs, you'll learn what you can do to help your dog regain function again. We'll focus on observation with appropriate actions and adjustments to make. You will learn about equipment and what to use outdoors that will make your aging-dog enjoy life more. You will also learn things you can do that will make your own life easier while living with, loving, engaging, and caring for an older dog.
This is an introductory course, meaning no prior experience with any of the topics covered is needed. For gold level participants, I will provide feedback on your technique, and on your dog's alignment while doing the exercises, and give you tips and support for how to be more successful with all of the exercises and concepts presented in this course.
It could take 6-10 weeks for the exercises to have a significant impact on your dog's strength and function. I truly hope you'll keep going with the exercises you learn in this class, and that you'll write me later and let me know how it went. Get ready because your aging dog is likely to appear younger than when this class started.
Teaching Approach
Lectures will be released weekly and include how to set up the environment, instructions for teaching the behavior, video examples, benefits, and alignment. We will focus on the exercises, observation skills, teaching, and your dog's level of engagement and joy.
This class will have a Teacher's Assistant (TA) available in the Facebook study group to help the bronze and silver students! Directions for joining will be in the classroom after you register.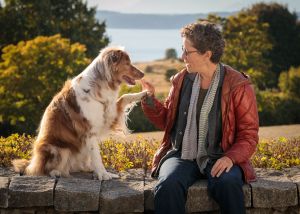 Instructor:
Lori Stevens
Lori Stevens (she/her) (CPBC, CPDT-KA, CCFT, SAMP) is an animal behavior consultant, a professional dog trainer, a canine fitness trainer, an animal massage practitioner, and a senior Tellington TTouch® Training practitioner. ...(Click here for full bio and to view Lori's upcoming courses)