Sharon (she/her) has been a professional animal trainer for 30 years. She has been both a presenter and trainer in a range of animal shows, and currently operates, a dog training and behaviour consulting business based in Newcastle, Australia.(Click here for full bio and to view Sharon's upcoming courses.)
=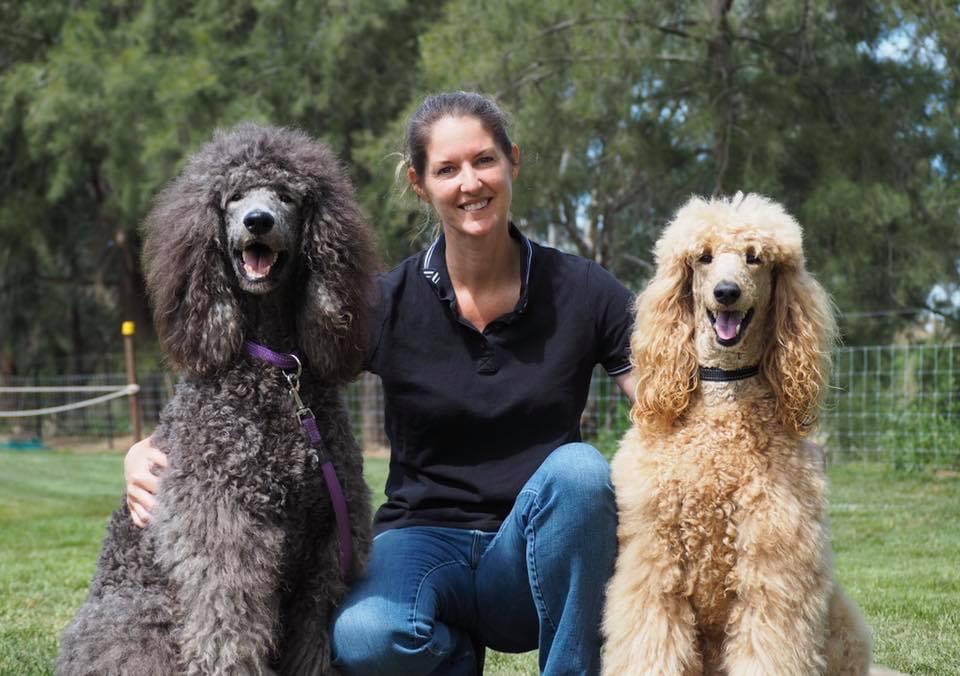 Sharon (she/her) has been a professional animal trainer for 30 years. She has been both a presenter and trainer in a range of animal shows, and currently operates, a dog training and behaviour consulting business based in Newcastle, Australia.
Sharon started competing with dogs over 30 years ago, she then made the change from competing with dogs, to competing with horses.
For the next few decades Sharon had a successful career riding, and coaching, through to the highest levels of both eventing and dressage (Grand Prix). She has been an Australian representative rider, and in 2013 acquired her EA Level 3 dressage specialist coaching certificate (qualified to coach through to Olympic level).
Although Sharon's competition focus was on equestrian during those years, Sharon continued to train dogs and a variety of other species. In 2018 she made the transition back from competing with horses, to competing with dogs. She has since titled several dogs and achieved multiple wins and best in trial performances. Her oldest dog attained his rally masters title and his CDX within 18 months of commencing competition.
Intent on really understanding animals better, Sharon completed a Bachelor of Applied Science, a Graduate Diploma (Captive Vertebrate Management – wildlife and exotics) and a Master of Animal Science. Sharon is currently completing a PhD in Veterinary Pharmacology – studying behaviour-modifying medications for anxiety-based disorders and stereotypies.
Sharon is a fully certified behaviour consultant with the International Association of Animal Behavior Consultants (IAABC) in both dogs (CDBC) and horses (CHBC), and is a certified professional dog trainer - CPDT-KA.
Sharon guest lectures to post graduate veterinarians and behaviourists at several universities and organisations, on the topics of animal behaviour, training, species-specific cognition, welfare and psychological trauma in animals.
Nowadays Sharon's primary focus is working with dogs displaying significant aggression (dog-to-human and dog-to-dog), and also cases where the animal is performing a range of other behaviours associated with fear or anxiety.
In all cases, Sharon's primary aim is to help the humans to understand the underlying cause for their dog's behaviour, and to use both management and behaviour-modifying training, to achieve a better outcome for the dog and their human family.
Beyond her knowledge of animal learning, Sharon is a sought-after coach and mentor for competitors in a variety of sports. Sharon has coached several International teams and countless individuals to winning performances. She is consistently effective at improving performances, not just in elite level competitors, but anyone looking to get started in a sport or improve the quality or level of their performance.
Sharon and her husband currently share their home with three amazing dogs and a very tolerant cat.
Further information is available at www.AvantiDogTraining.com.au
Pronouns: Sharon goes by she/her.
This class is best suited to dogs that respond in an active way to an increase in arousal. When leashed or behind a barrier, these dogs typically lunge and/or bark at stimulu...
August 1, 2022
Have a question about an upcoming course taught by Sharon? Not sure if your dog is suitable for a specific class? We welcome you to contact instructors by email to make sure the course is suitable for you and your dog.