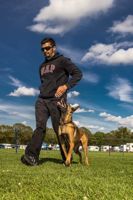 Kamal Fernandez (he/him) started training in 1991 after getting Scrunch, an independent and free-willled chow-chow mix. Like many other first time dog owners, Kamal found himself in for a rude awakening when he got her – Lassie she was not! You name it, Scrunch did it – running away, biting, resource guarding, nervous aggression – Scrunch did it all! Scrunch prompted a trip to Newham Dog Training Club at Eastlea School. And so began an epic journey into the world of dog training which has taken Kamal from a dog who wouldn't come back when she was called to competing in the Obedience Championship at Crufts!
Since this humble start, Kamal has immersed himself in the world of animal training, led by some of the leading lights in the field such as Sylvia Bishop, Susan Garrett, Bob Bailey, Ian Dunbar and Karen Pryor. This thirst for knowledge, combined with his job as a police officer, working with young offenders, and studying psychology has contributed to his dynamic and innovative teaching style and his ability to get the best from his pupils, whether human or canine!
With over 20 years of practical dog training experience, based on a combination of science and hands-on experience, Kamal has established a reputation for positive training and has championed the use of reward-based methods all over the world.
Pronouns: Kamal goes by he/him.
Training Videos On Demand
Teach Your Dog to Play There is nothing more joyful then seeing a dog and their owner just playing... A dog and owner fully engaged in their own 'littl...
Kamal Fernandez
(Faculty)
Have a question about an upcoming course taught by Kamal? Not sure if your dog is suitable for a specific class? We welcome you to contact instructors by email to make sure the course is suitable for you and your dog.
Kamal is the king of UK heelwork and I love the way he teaches it. It will take some time till I get a decent heelwork but thanks to this class it's doable in a clear way that is also fun for both dog and human.
---
I have loved my two classes with Kamal. The lectures and vids have been fantastic. Very creative and very motivating. Wonderful experience.
---
Kamal is an amazing instructor. Really pulls the best out of every team.
---
Although only bronze level for someone of Kamal's calibre to share his training 'secrets' so willingly indicates a comittment to dog welfare in the world of obedience.
---
I enrolled in Kamal's first heeling class at bronze then this one. The progress some of his students made is phenomenal! He makes the work so much fun and breaks everything down into tiny bits. Had me laughing out loud at some of the exercises he got the students to do. Definitely makes heeling fun! RoseL