Instructor: Loretta Mueller
Course Details
You have the basics of handling from AG 110- now it's time to really play the game - with your first sequences! These sequences are designed to take your skills and apply them with speed, accuracy and confidence. This class is just as well suited as a refresher for an advanced dog as well as a beginner!
We will be working on short sequences that involve the following handling options:
Sends
Front Crosses
Blind Crosses
Rear Crosses
180's
270's
Serpentines
Threadles
There will also be a course options discussion each week, to help you really think about your options on course.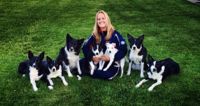 Instructor:
Loretta Lake Mueller
Loretta Lake Mueller has been involved in agility since 2003 with her first rescue dog, Ace. Since then she has been involved in a variety of dog training activities including USBCHA herding, competitive obedience, rally obedience, and service dog training. In 2007, Loretta