Course Details
Strategy games are the new upcoming trend in the Disc Dog world. Skyhoundz Disc Dogathon and UpDog Challenge have created new innovative challenges to test the skills of disc dog teams. This course will cover each of the strategy games in detail providing drills to help perfect the skills needed for each particular game as well as the knowledge to develop strategies best suited for your individual team. Toss and catch will also be covered in this "everything but freestyle" disc dog class.
Materials needed: one disc-driven dog, one excited to learn handler, up to 8 discs and a set of 8 low profile cones. Minimal agility equipment (2 jumps at the least, tunnel is even better) is necessary for Frizgility and Funkey exercises.

Building disc drive will not be covered in this course.
Teaching Approach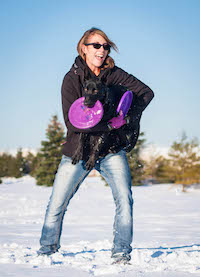 Instructor:
Sara Brueske
Sara Brueske (she/her) has been training dogs for over 15 years, and has experienced a large variety of breeds and sports during that time. Having graduated as a Karen Pryor Academy Certified Training Partner ... (click here for full bio including Sara's upcoming courses)