Course Details
What are the Four Cornerstones of Trial Preparation? Quite simply they are: Confidence, Motivation, Skills and Stamina. This is the "secret sauce" to developing a successful Nosework teammate. Depending on the level that we are preparing for, our emphasis on the cornerstones change. Typically, if a team is having troubles at a certain level, most definitely it's a deficit in one of the cornerstones.
Before we embark on our journey of trial preparation, we need to first and foremost address CONFIDENCE and MOTIVATION. These are two basics that will form the backbone of a successful team. Is your dog's core confidence there to search a novel environment? Is your dog confident in his training? Does he work independently with JOY? Is your dog excited to work? Does your dog LOVE to work in novel locations? You can imagine if the answers to any of these question is no, just how hard trial preparation will be!
SKILLS and STAMINA are just as critical and build on CONFIDENCE and MOTIVATION. Does your dog work through a new challenge without fear of failure? Are you able to train new skills without over-facing your dog? Does your dog get mentally or physically fatigued in training?
This class is a Prequel to NW350 but can be taken at any time. This class is especially helpful for sensitive, environmental or reactive dogs. It's also heavily suitable for any green dog or a more experienced dog who lacks confidence or motivation.
The Four Cornerstones of Trial Preparation. I came up with the cornerstones when thinking about what is REALLY necessary for a successful Nosework team. So often, classes focus only on skills. That's great except that it's only one aspect of success. I decided that I needed to teach a class that shored up a team's foundations with really solid basics (not necessarily skills) as a pre-cursor to trial preparation.
In this class we are going to systematically move through the cornerstones in the order that you need them to prepare for trialing. CONFIDENCE… MOTIVATION… SKILLS… and STAMINA… These cornerstones act like a Pyramid with the most important and foundational aspects at the bottom.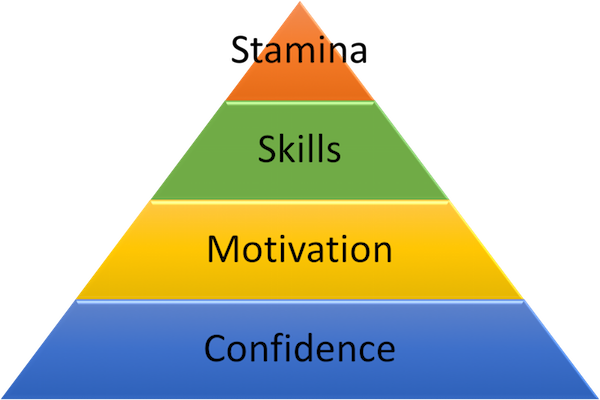 In fact, as you move up the levels, emphasis on each cornerstone changes, and the levels assume that you have built a good foundation. Working on these aspects is what allows a Nosework dog to title and be successful, moving up the levels.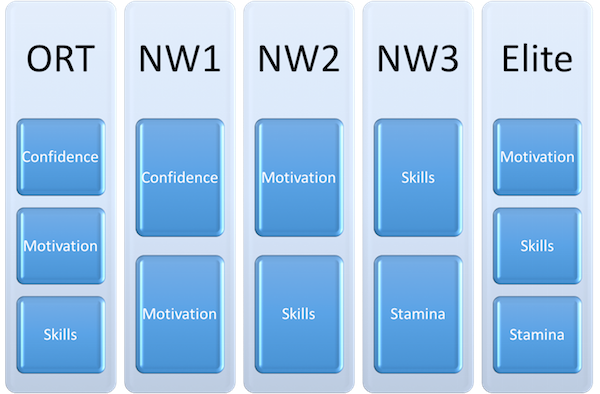 So you can see that at NW1…. there really is very little emphasis on skills! Your dogs know how to find a single hide… that's all that is necessary. The initial skills you need are developed before you do your ORT… after the dog recognizes odor and understands the basic skill of hunting, you have what you need. What you need to develop to prepare for NW1 is Confidence and Motivation.
As you move into NW2, your dog should already have Confidence… at this point you need a little more drive and motivation in order to make time and you need enhanced skills. You need to be able to source inaccessibles and work multiple hides.
At NW3, the emphasis starts to shift to Skills and Stamina. From a Skills perspective, your dog needs to build on the NW2 skills with a greater emphasis on converging odor and elevation. And…. you need more Stamina because at this level you now have 6 searches (there are 3 Interior searches).
At Elite Division, emphasis on Motivation, Skills and Stamina are especially emphasized. Motivation is critical since the dog will have to do Speed Searches (very tight times related to the number of hides). Skills come heavily into play because of the creativity in hide placement (I've seen hides as high as 13 feet in the air). Stamina is critical because some searches can last up to 7:00.
So you see, if you train more than Skills, you can be especially successful!
In this course we will cover Skills and Stamina however our emphasis will be on Confidence and Motivation.
Related Blog Entry: https://scentsabilitiesnw.com/blog/where-lies-confidence-and-motivation/
Teaching Approach
Each week a series of lectures will be released (usually 3 to 5). The lectures will be a combination of supporting theory and setup examples. As is typical with Nosework, the student may need to apply consideration as to how to adapt the setup examples to their situation. The instruction will be written with short videos of example searches. The student may need to adapt the example to their own situation. Lecture videos may run from 1 to 4 minutes long, with the average between 1-2 minutes. The lectures are designed to help a student understand the purpose of the topic and how its application might vary by dog. Care is taken so that learners who learn by both watching and reading will be successful.
This class will have a Teaching Assistant (TA) available in the Facebook discussion group to help the bronze and silver students! Directions for joining can be found in the classsroom after you register.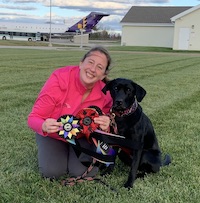 Instructor:
Stacy Barnett
Stacy Barnett is a top nosework competitor and trainer, being the first handler to title multiple dogs with multiple Summit Level titles in the National Association of Canine Scent Work (NACSW), (Judd SMTx3, Brava SMTx2). Stacy has been a faculty member at Fenzi Dog Sports Academy since 2015 (Click here for full bio and to view Stacy's upcoming courses)