Course Details
In this class we will work through all the steps and fine details required to develop a precise and reliable competition-level dumbbell/scent article/glove retrieve.
We will use shaping, rather than play, as the basis for this skill. Shaping the retrieve allows us to alter and improve tiny aspects of the behavior in a controlled and systematic manner.
Each week in class we will introduce and strengthen a variety of behaviors that will lead to a fabulous and consistent retrieve. Students will work through a weekly task list and engage in problem solving at each stage in the process. Even if you have a retrieve, going back and working through these tasks will fill in any holes in your foundation and make your retrieve much better.
Special attention will be paid to helping our dogs develop a strong positive emotional response to the dumbbell and the act of retrieving. We don't just want them to do it; we want them to LOVE doing it!
---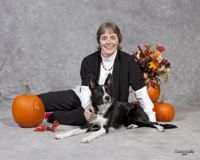 This class is co-taught with FDSA Instructor Judy Keller