Course Details
Are you trapped inside with your pup during the extreme heat or cold?
Do you only have a very small space to work with your dog and want to perfect your agility skills?
Do you need to go back to basics with your trained dog, brush up on the foundation work and take it to the next level?
Are you looking for some fun games to play with your dog that will set them up to be an agility star?
Then AGILITY IN DA HOUSE is your class!
Loretta has to deal with tough Minnesota winters from October to April (sometimes through May!!) and she works all of her competition dogs inside her house on skills so that they stay trial ready! She also works her young dogs on skills so when the nice weather hits, those skills carry over to easy and fast training in a short period of time!
Making the homework for agility training in a small space can really take some critical thinking. This class is all about "using whatcha got" in the house, purchase from the department store, or any other crazy idea you can come up with. INVENTION is the key. We want to figure out ways to make YOUR house work for training!
There will be levels from Beginner to Advanced presented for EACH GAME so you will know the exact progression your dog needs to take with problem-solving with each level.
Since Loretta trains puppies all the way up to her older dogs (with ADCH-Platinum titled, podium winners at National events, Lifetime Achievement Award winners) you will get to see how you can take each game to the next level!
Teaching Approach
The teaching approach for this class will consist of video demonstrations as well as written lectures. Lectures will be released on every Monday. These videos and lectures will outline what the steps are for each exercise. We will also work on learning how to use items from the house, to train these concepts.
This class will have a Teaching Assistant (TA) available in the Facebook discussion group to help the bronze and silver students! Directions for joining can be found in the classroom after you register.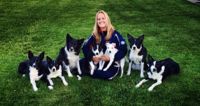 Instructor:
Loretta Mueller
Loretta Mueller (she/her) has been involved in agility since 2003 with her first rescue dog, Ace. Since then she has been involved in a variety of dog training activities including USBCHA herding, competitive obedience, rally obedience, and service dog training. In 2007, Loretta...(Click here for full bio and to view Loretta's upcoming courses)