Course Details
This course will take your Vehicle and Exterior Skills to the Next Level. Teams working from NW1 through NW3 will find this course extremely valuable.
Vehicles are one of the least practiced elements yet are also one of the least understood. Stacy decodes the ins and outs of one of her favorite elements and shares all of her hidden secrets. Learn her "secret sauce". You will learn WHY Vehicles are challenging with a healthy dose of Scent Theory and Aerodynamics. And if your dog is a random searcher, you will benefit from learning how to pattern vehicles successfully. It's all in teaching the dog to wrap the vehicle independently! It's VERY easy and you do the foundations with a single vehicle in your driveway! Then learn how to take that to the next level.
Exteriors are more often practiced but are often difficult due to scenting conditions and search area complexity. Stacy guides you through one of her other favorite elements in order to get you comfortable in understanding and navigating your search area. As with the Vehicles portion of this class, you will also get a ton of Scent Theory... which will come in handy when you start to apply your skills to larger and more complex areas (or even potentially BLANK Exteriors in NW3!)
This class will include a lot of NEW MATERIAL for the April 2020 term!
Sampling of NEW material:
New Vehicle Material…
Strategies for working single hide vehicles in different wind/weather conditions
Strategies for working searches in swirling air flow and near buildings
Strategy for working unknown number of hides
Practice with inaccessible vehicle hides, starting with a single vehicle in your driveway
Strategies for unknown number of hides on vehicles
Strategies for identical vehicles
Blank Vehicle searches
New Exterior Material…
Understanding how the dog uses the wind to search
Hide setting considerations
Enhanced Scent Theory
Exterior elevated hides
Understanding how far scent travels
Strategies for working known number of hides
Strategies for working unknown number of hides
Strategies for large spaces
Blank Exterior searches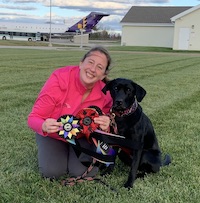 Instructor:
Stacy Barnett
Stacy Barnett is a top nosework competitor and trainer, being the first handler to title multiple dogs with multiple Summit Level titles in the National Association of Canine Scent Work (NACSW), (Judd SMTx3, Brava SMTx2). Stacy has been a faculty member at Fenzi Dog Sports Academy since 2015 (Click here for full bio and to view Stacy's upcoming courses)