Course Details
Did you know that every time you take your dog out for a walk, you could be building on your connection? Learn some simple ways to maximize your time improving fluency and generalizing behaviors for competition too! Your dog will choose to stay engaged with you instead of pulling, sniffing or running away from you!
In this class, we'll use some games we can play on leash using behaviors he already knows. We will also learn how to use a long line effectively and how to get behaviors at a distance. If your dog is ready for it, you can try going leash free. We'll use sidewalks, trails, open areas and whatever else you have access to!
Did you know there are different kinds of walks? We will explore how much exercise and what kind your dog really needs and how often he needs it. Your dream of physically and mentally tiring your dog without having to walk or hike for miles (or throwing balls until your arm falls off) is possible!
Can you trust your dog? If so, he will learn to trust you! Giving him more choice helps build a stronger relationship.
We will explore the use of meditation, massage, and TTouch at home and on walks for improved focus (for both you and your dog!). Don't worry, it all has practical application! (I know, some of you are probably surprised that I, a science-based trainer, uses these approaches. Surprise! One of the benefits of an open mind is what it brings!)
Varying your locations is often a challenge so we'll address that too! With a list to draw from, you can plan an effective walk in minutes. All this will help you and your dog to become better working partners! We'll also look at an easy way to stay organized with all the possible locations and behaviors you can do.

We'll also take a practical look at the use of different reinforcers and the role they play in training in distractions. The goal is to get your dog focussed on the job you have asked him to do while ignoring what is going on around him.
Each week builds on the skills and attention of the previous week so you will build the relationship as you go. At the end of the six weeks, you may also see improvement in your dog's loose leash walking since all of the games have a component of connection with you and use Premack's Principle to strengthen them. Loose leash walking is usually a byproduct of building the bond! A dog that wants to be with you is a dog that chooses to stay close to you.

This class is just the tip of the iceberg on what is possible for walks. Be sure to join us to tap into this 'seldom used' training approach.

This class is suitable for:
Dogs and handlers at all levels of skill
Whether your dog needs to stay on leash or can work off, you will want to integrate this approach into your daily life and will discover things you can do to improve your relationship and your dog's ability to stay focused on you and what you are asking him to do!
We will focus on:
-where is your bond at now?
-different kinds of walks
-teaching and generalizing directionals (this is added for my former Stir Crazy students!)
-using a stations approach on walks (building from the ground up)
-some simple ways to teach your dog to change position near you (great for when he is leashed or long-lined).
-using distractions to your advantage
-use paw targeting to get exercise and do behaviors at a distance
-how to calm your dog on a walk (especially for the adrenaline retrieving junkies)
-practice loose leash walking and competition heeling games during real life walks!
This class is jam packed with tons of videos and lots of text (theory) behind the 20 games you can play with your dog. Take a look at our sample lesson as an example. You will get your money's worth and then some! Lots of info for after the course is over as well!


Teaching Approach
There is a combination of theory/discussion and video clips for this class. Donna lays out the details of each behavior into small bite-sized pieces. There are a ton of ideas you can use with your dog well beyond the scope of this class so be prepared for much reading and also to make choices of what you want to focus on. You won't be able to do it all. There are activities for dogs and handlers at many ability levels. Great value for those who want to take a "one off class" without prerequisites that you can use for many months ahead. I hope you join us!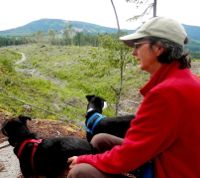 Instructor:
Donna Hill
Donna Hill (she/her) has had a life long love affair with dogs and a fascination with dog behavior. She has broad practical experience in the dog world: volunteering and working in kennels and shelters, dog sitting and walking, fostering rescue dogs, teaching behavior modification privately, and...(Click here for full bio and to view Donna's upcoming courses)